Highlights at the Hockenheim Ring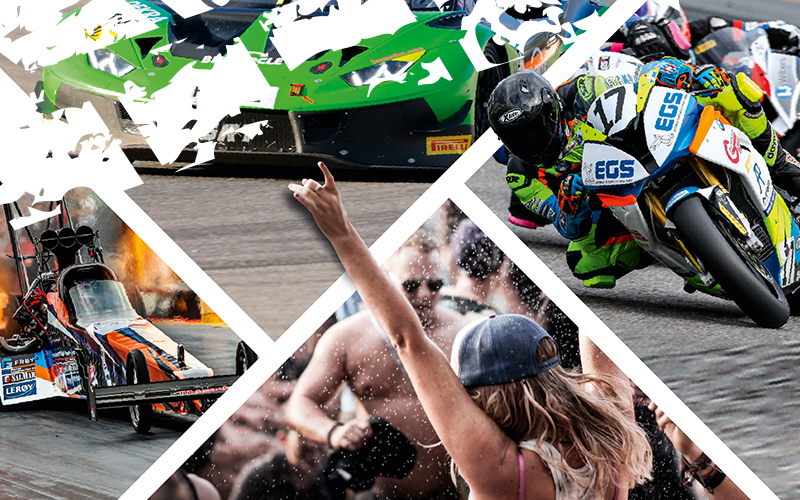 NitrOlympX 2023 – 25 – 27 August
KEEP THE ENGINE RUNNING

On the last weekend in August, the top European representatives of the world's fastest motorsport will meet where speed is at home – at the NitrOlympX at the Hockenheimring. Nearly 250 drag racing teams will be at the starting lights of the Rico Anthes Quartermile, offering fans an explosive mix of professional motorsport and show.
---
FANATEC GT World Challenge – 1 – 3 September
SPRINT CUP PREMIERE IN HOCKENHEIM

The FANATEC GT World Challenge Europe powered by aws heralds the exciting racing autumn at the Hockenheimring from September 1 to 3, 2023. The world's largest GT3 racing series stands for thrilling motorsport at the highest level with fascinating dream sports cars and great brand diversity. In its first visit last year, the FANATEC GT World Challenge Europe contested the Endurance Cup at Hockenheim, this time it's the turn of the Sprint Cup.
---
Glücksgefühle Festival  14 – 17 September
THE GLÜCK IS COMING HOME
From September 14 to 17, 2023, the Glücksgefühle Festival will celebrate its premiere at the Hockenheimring. On the stages: the best acts from the genres pop, rock, hip hop and EDM – endorphins guaranteed! Fans can look forward to Marteria, Sido, Timmy Trumpet, Steve Aoki, Robin Schulz, Felix Jaehn, Paul van Dyk, Sarah Connor, Cro, Clueso, Joris, Wincent Weiss, Gentleman, Nico Santos, Lea, Alle Farben, Zoe Wees, ATB, Donots, Milky Chance and many more.
---
IDM Finale 2023 – 22 – 24 September
GRIPPING OVERTAKING MANEUVERS

Top-class riders from all over the world, first-class racing and exciting battles – that's the International German Motorcycle Championship (IDM). The grand finale of this year's season will take place at the Hockenheimring from September 22 to 24, 2023. There will also be plenty going on away from the race track: with public press conferences, autograph sessions, test rides of the motorcycle brands, a dealer mile and the end-of-season party on the pit roof with live music.
---
Hockenheim Classics 29 Sept. – 1 Oct.
NOSTALGIA ON WHEELS

Historic motorsport at its best on two, three and four wheels – the Hockenheim Classics offers everything that is moved in Germany and neighboring countries in historic cultural assets on race tracks. Experience the atmosphere of bygone days up close. The long history of the vehicles make this event a highlight for all classic car lovers.
---
Advantage program with bwegtPlus
GET A DISCOUNT IN THE FAN SHOP

We reward your climate-friendly journey by public transport: After your journey by public transport, show your current bwtarif ticket, Schüler-Ferien-Ticket, JugendticketBW or Deutschland-Ticket in our Hockenheimring Fan Shop and you will receive a 5% discount* on your purchase (redeemable on site).