Things to do in the Pirmasens area
Dynamikum Science Center – Pirmasens
Tinkering, experimenting and lots of fun
Don't touch? Not in Dynamikum!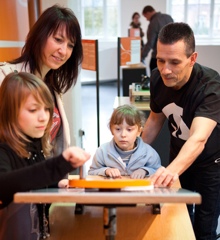 Who hasn't been to museums where you're requested to walk through quietly and are only allowed to observe the exhibits from a distance?
In the Dynamikum Science Center in Pirmasens, it's very different! Here you are encouraged to explore the 160 exhibits hands on to your hearts content and experience the fascinating phenomena of science and technology.
The overriding theme is "movement" – whether it be in the sense of to set something in motion or simply to move. Consequently there's a lot of great things to discover in the 4,000 square meters of exhibition area: Who wants to run a race with an elephant? Ever tried to roll a ball uphill? How would it be, to find yourself in place of the sun at the center of our solar system?
For more info: dynamikum.de
---
The Hitscherhof – Landhaus
Family, Tradition, Restful, Feels like coming home
The HITSCHERHOF is located between Thaleischweiler Froeschen and Rieschweiler Muehlbach (in the Massweiler municipality close to Pirmasens, Germany).
The first house in our settlement was built 700 years ago on a hill in the Schwarzbachtal. An 18 hole GOLF COURSE is harmoniously located on the Hitscherhof farmland and a caddy storage room is available for our golfing guests.
Bed and Breakfast in our Farmhouse
We invite you to stay in our family-owned Bed & Breakfast located in a quiet rural area.
Get Fischer TURF for your NEW LAWN
Get your new lawn fast and professional!
---