NitrolympX Drag Racing 2023
WHEN THE AIR BURNS AND THE MOTODROM SHAKES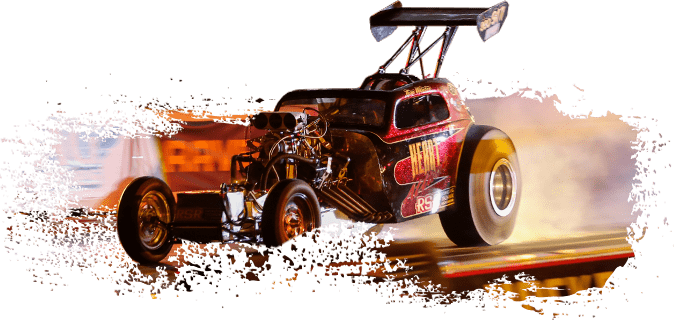 Hockenheim Ring, Germany. 25. – 27. August – 2023
When an incredible 20,000 horsepower suddenly roars at the NitrOlympX, even the Hockenheim Motodrom shakes. The highly explosive mix of speed, sports and show at the largest drag racing event outside the US attracts around 40,000 fans to the "Rico Anthes Quartermile" every year.
The dragster race event "NitrOlympX" has now reached cult status. Everything is faster, more dangerous, louder and that little bit more crazy. The highly explosive mix of sport, speed and show pulls in the fans to the "Rico Anthes quarter mile" because this is where they can experience full throttle, action and a need for speed at the highest level.
It is a mad spectacle when the racing cars line up in their start positions in front of the so-called Christmas tree. When the adrenaline shoots into the bloodstream and the methanol fires into the engines, when rubber burns and deafening engines can be heard way beyond the Motodrom, then that's when the fastest racing cars in the world are driving over the quarter mile track at the Hockenheimring.
It is pure motorsport – exciting duels between the drivers to deliver the best reaction speeds and grapple with acceleration speeds that take them from 0 – 100 mph in less than 1 second. The top fuel class always lives up to its reputation as the king of drag racing, when cars reach speeds of up to 500 km/h on the quarter mile at the Hockenheimring.
And not forgetting the legendary Saturday Night Show. When the sun sets over the Motodrom and the spotlights bathe the quarter mile in colourful light, it's showtime and spectators are treated to a colourful mix of breathtaking stunts, spectacular show runs, burnout contests and great entertainment with lots of action and high speeds, smoking tyres, metre-high flames and bright sparks. In 2009, the Frenchman Eric Teboul even managed a world record at the night show. He drove an amazing time of 5:277 seconds on his skyrocket bike.
Anyone witnessing it was hooked because drag racing really is a motorsport of superlatives. Experience it yourself and immerse yourself in the fastest and most spectacular motorsport in the world!
Join the celebrations at this years NitrolympX – it promises to be a show of the superlative.
Visit the official NitrOlympX website
For more information: nitrolympx.de/en/
Photos by kind permission: © Hockenheim-Ring GmbH