Herzogenriedpark Mannheim
Seeing, hearing, smelling, feeling
– the colors of nature, the singing of birds, the scent of flowers or the bark of ancient trees: a visit to Herzogenriedpark activates the senses, is a recreational and freshness cure for body, mind and soul at the same time, a place of pure relaxation in the middle of nature. On 365 days a year, around 500,000 visitors enjoy the park in Mannheim's Neckar city, which stands for its pristine landscapes, countless opportunities for children and a unique range of open-air sports. On 365 days a year, Herzogenriedpark in the heart of Mannheim's Neckarstadt district has a cozy spot for everyone on its 21 hectares. Whether in the traditional farmer's garden, in the enchanted rose garden or along the many shady avenues of trees: the meaning of the word "deceleration" can be experienced here with all the senses.
Movement, relaxation, nature
From the sun terraces, you can enjoy a magnificent view of blossoming magnolias, cherry blossoms and lovingly planted flower hills. And what are the perfect ingredients for relaxation in the midst of nature? In addition to extensive, well-tended greenery, a park lake, a modern Kneipp pool and many fountains, our "freshness guarantors" for hot days! Mannheim's sports park also scores points when it comes to exercise: From boules to basketball, table tennis, tennis, athletics with ash track and long jump facility, soccer field fitness equipment under the open sky and, new and cross-generational, the motor skills course leave nothing to be desired for athletes. Kids will get their money's worth on an eleven-meter high climbing facility, at the spray guns, in the cave labyrinth or on the farm.
Please understand that due to our free-roaming animals, dogs, except guide dogs for the blind, and other pets are not allowed. Feeding the animals living in the parks is not allowed.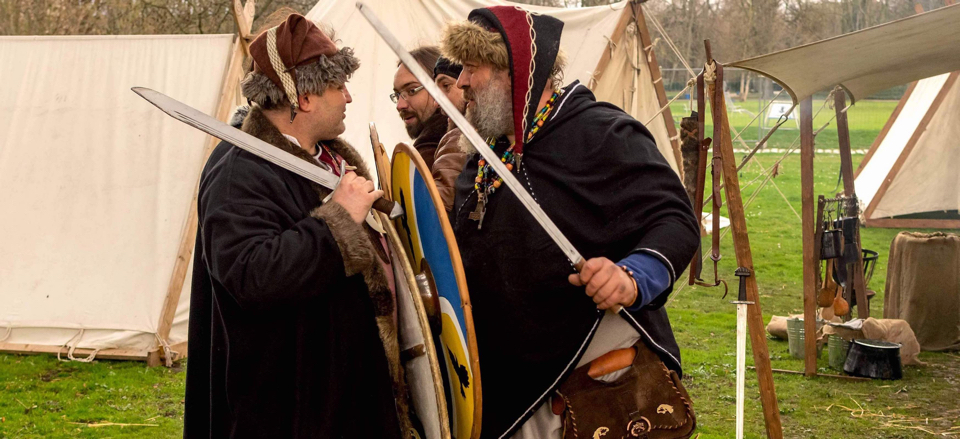 Medieval fair
Fri., 17. March, 3 p.m. – Sun., 19. March, 6 p.m.

Finally back after a three year break!
Where is there a bookstall with fairy tales for brave people? Where a pewter caster you can watch at work? Where does a band play that seems as if it came from another time, with its songs of shamans who fear for the good harvest? And where does a lady in splendid garb explain in Middle High German to a small crowd how to spin the medieval wheel of fortune?
After a forced break of three years, the desire for the market is so great that the Medieval Fair will be moved to the middle of the park for the first time, making the park center the venue for this great festival. The park entrance fee is therefore the same as the market entrance fee on both days and for all park visitors.
A festival like a journey through time
A festival under the open sky, in which the legendary age of the Teutons, Vikings and Celts, in which "Charlemagne" or "Walther von der Vogelweide" lived. There is hardly an epoch that holds as many secrets and contradictions as the Middle Ages. And this fascination can be experienced again in Herzogenriedpark from March 17 to 19, 2023. Visitors and exhibitors will once again be splendidly costumed, there will be food that knights and noblemen once had on the table of shame. At many booths there will be "products of daily use" from slippers to clothes brushes, made of natural materials, almost like seven hundred years ago!
Coopers, hurdy-gurdy makers, blacksmiths and fire painters, cloth merchants and market women invite visitors to their stands on an exciting journey back in time to a bygone era. With bag cutters and chasers there are historical crafts to touch, next to jugglers and knights witches mix up the park. This year again, "Ugly Hans" will be there as a beggar, a historical carousel driven by servants with pure muscle power, a fortune teller, a shoe shiner. Far-traveled jewelry and soap merchants offer their treasures for sale to interested ladies.
Medieval children's program
Wood elves and mini knights can discover the Middle Ages in a playful way by trying their hand at archery and crossbow shooting, cracking eggs or throwing spears. If the latter is too daring for you, you can try your hand at clay building or children's bookbinding, or go to a storyteller who has some great tales and legends to tell. Or you can make yourself even more beautiful with the children's make-up artist! The falconer Achim Häfner also shows his eagle owls, falcons and buzzards, which take the kids' breath away when they soar five centimeters above their heads. New this year is a blacksmith with a real treadmill that kids can "run": The homemade wheel, nearly four meters high, is connected to a camshaft that drives a 60-kilogram hammer – this "giant hamster wheel" is sure to thrill many kids!
Chivalrous feasting in a great atmosphere in the evening with lanterns & live music
And since all this makes you hungry, there will also be food and drink. The smell of freshly baked bread, spices, grilled meat, sweet honey wine and tempting pastries is in the air and you immediately notice: they could cook, our ancestors! With oriental fruits, oriental vegetables, cream pies and hemp baked goods, the medieval fans are really spoiled. Whether deer goulash with dumplings, robber ribs or simply a piece of fresh wood-fired bread with a glass of fruit wine, home-brewed beer or Barbarossa punch – the menu lacks nothing.
And from dusk until the evening hours, the Medieval Fair turns into a "fabulous" scenery: with authentic music from traditional instruments and chants and an illumination of torches and candles matching the era, the atmosphere here is very atmospheric.
Medieval fair Opening hours:
Fri. 17.03., 15 – 21 h, Sat. 18.03. 11 – 21 h, Sun. 19.03. 11 – 18 h
The market entrance is valid for ALL visitors of the Herzogenriedpark!
Admission: Adults € 7.00, • Beneficiaries € 5.00
Children (6 to 15 years) € 4,00 • Annual pass holder € 5,00 • Children under sword size free
New opening hours
As of March 1, 2023, modified ticket office opening hours are in effect at Herzogenriedpark. The new hours have been adapted to the previous visitors usage behavior and apply to the entrances Main Entrance/Neuer Messplatz and Jakob-Trumpfheller-Strasse/corner Hochuferstraße. Both entrances are staffed cash desks at the times indicated.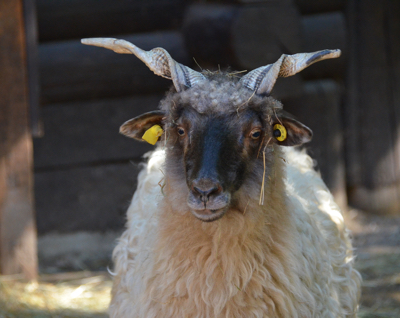 In March and October, the cash desk at the main entrance will open at 9 a.m. as usual, while the cash desk at Jacob-Trumpfheller-Strasse will now open one hour later at 10 a.m. Both cash desks will close half an hour earlier than usual. Both ticket offices will close half an hour earlier than before at 6 p.m. In April and September, the ticket office at both entrances will run uniformly from 9 a.m. to 6 p.m. From May through August, both ticket offices will run uniformly from 9 a.m. to 7 p.m. From November through February, the main ticket office at the new Messplatz opens at 9 a.m., while the ticket office at Jacob-Trumpfhellerstrasse does not open until 10 a.m. Box office closing time at both entrances is 4 p.m.
At the entrance near the GBG Hall and at the Herzogenried residential development, both fully automated entrances, the opening hours remain unchanged in all months. Visitors can only pass through these entrances with an annual pass or a ticket previously purchased elsewhere. With an annual pass, access is possible one hour earlier in the morning and one hour longer in the afternoon. Exit is possible at all times via the turnstiles!
Herzogenriedpark Ticket Prices
Day tickets – March – October
Adults: € 3,50
Concessionary tickets: € 2,50
Children 6-15 years: € 2,00, School classes children: € 1,50
How to find us:
Herzogenriedpark,
Max-Josef-Strasse 64, 68169 Mannheim
Internet: www.herzogenriedpark.de
Admission times:
March: 9 a.m.- 6 p.m. Main Entrance;
Jacob Trumpfheller St: 10:00 a.m. – 6:00 p.m.
April: 9 a.m. – 6 p.m. (both box offices)
May – August: 9 a.m. – 7 p.m. (both box offices)
September: 9 a.m. – 6 p.m. (both box offices)
October: 9 a.m.- 6 p.m. Main Entrance;
Jacob Trumpfheller St: 10:00 a.m. – 6:00 p.m.
November – February: 9 a.m.- 4 p.m. Main Entrance;
Jacob Trumpfheller St: 10:00 a.m. –  4:00 p.m.
---