Herzogenriedpark Mannheim
Seeing, hearing, smelling, feeling
– the colors of nature, the singing of birds, the scent of flowers or the bark of ancient trees: a visit to Herzogenriedpark activates the senses, is a recreational and freshness cure for body, mind and soul at the same time, a place of pure relaxation in the middle of nature. On 365 days a year, around 500,000 visitors enjoy the park in Mannheim's Neckar city, which stands for its pristine landscapes, countless opportunities for children and a unique range of open-air sports. On 365 days a year, Herzogenriedpark in the heart of Mannheim's Neckarstadt district has a cozy spot for everyone on its 21 hectares. Whether in the traditional farmer's garden, in the enchanted rose garden or along the many shady avenues of trees: the meaning of the word "deceleration" can be experienced here with all the senses.
Movement, relaxation, nature
From the sun terraces, you can enjoy a magnificent view of blossoming magnolias, cherry blossoms and lovingly planted flower hills. And what are the perfect ingredients for relaxation in the midst of nature? In addition to extensive, well-tended greenery, a park lake, a modern Kneipp pool and many fountains, our "freshness guarantors" for hot days! Mannheim's sports park also scores points when it comes to exercise: From boules to basketball, table tennis, tennis, athletics with ash track and long jump facility, soccer field fitness equipment under the open sky and, new and cross-generational, the motor skills course leave nothing to be desired for athletes. Kids will get their money's worth on an eleven-meter high climbing facility, at the spray guns, in the cave labyrinth or on the farm.
Please understand that due to our free-roaming animals, dogs, except guide dogs for the blind, and other pets are not allowed. Feeding the animals living in the parks is not allowed.
New opening hours
As of March 1, 2023, modified ticket office opening hours are in effect at Herzogenriedpark. The new hours have been adapted to the previous visitors usage behavior and apply to the entrances Main Entrance/Neuer Messplatz and Jakob-Trumpfheller-Strasse/corner Hochuferstraße. Both entrances are staffed cash desks at the times indicated.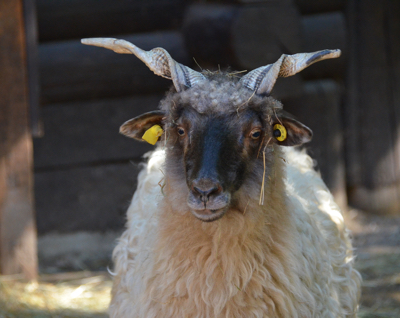 In March and October, the cash desk at the main entrance will open at 9 a.m. as usual, while the cash desk at Jacob-Trumpfheller-Strasse will now open one hour later at 10 a.m. Both cash desks will close half an hour earlier than usual. Both ticket offices will close half an hour earlier than before at 6 p.m. In April and September, the ticket office at both entrances will run uniformly from 9 a.m. to 6 p.m. From May through August, both ticket offices will run uniformly from 9 a.m. to 7 p.m. From November through February, the main ticket office at the new Messplatz opens at 9 a.m., while the ticket office at Jacob-Trumpfhellerstrasse does not open until 10 a.m. Box office closing time at both entrances is 4 p.m.
At the entrance near the GBG Hall and at the Herzogenried residential development, both fully automated entrances, the opening hours remain unchanged in all months. Visitors can only pass through these entrances with an annual pass or a ticket previously purchased elsewhere. With an annual pass, access is possible one hour earlier in the morning and one hour longer in the afternoon. Exit is possible at all times via the turnstiles!
Herzogenriedpark Ticket Prices
Day tickets – March – October
Adults: € 3,50
Concessionary tickets: € 2,50
Children 6-15 years: € 2,00, School classes children: € 1,50
How to find us:
Herzogenriedpark,
Max-Josef-Strasse 64, 68169 Mannheim
Internet: www.herzogenriedpark.de
Admission times:
March: 9 a.m.- 6 p.m. Main Entrance;
Jacob Trumpfheller St: 10:00 a.m. – 6:00 p.m.
April: 9 a.m. – 6 p.m. (both box offices)
May – August: 9 a.m. – 7 p.m. (both box offices)
September: 9 a.m. – 6 p.m. (both box offices)
October: 9 a.m.- 6 p.m. Main Entrance;
Jacob Trumpfheller St: 10:00 a.m. – 6:00 p.m.
November – February: 9 a.m.- 4 p.m. Main Entrance;
Jacob Trumpfheller St: 10:00 a.m. –  4:00 p.m.
---