Stuttgart Christmas Market 2023
Christmas in the heart of Stuttgart 29. November – 23. December
This year, from November 29th to December 23th, 2023 inclusive, the city will be transformed into a lovingly decorated stall town.
The Christmas city of Stuttgart invites you to one of Germany's most beautiful Christmas markets.
Advent magic with a long tradition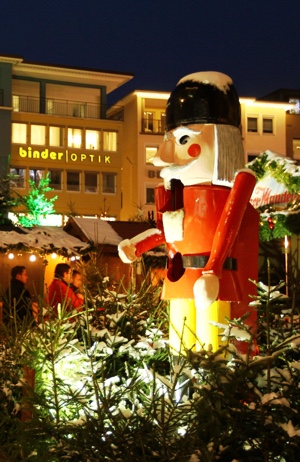 Photo: Thomas Niedermueller
Just in time for Advent, the city centre of Stuttgart is transformed into one of the most beautiful and oldest Christmas markets in Europe. Embedded in the picturesque backdrop of the New and Old Palace, the King's Building and the Collegiate Church, the Christmas Market attracts around 3.5 million visitors every year from Germany and abroad to the state capital of Baden-Württemberg.
Magnificently decorated stalls, contemplative concerts, a children's fairytale country and traditional delicacies – those who visit the Stuttgart Christmas Market experience a very special magic. The glittering Christmas market town has over 300 years of history and leaves nothing to be desired with around 300 traders who set up their stalls with great attention to detail.
Not only the roofs of the stalls offer visitors a special feast for the eyes, but also the squares and alleys in Stuttgart's city centre shine festively with an abundance of Christmas decorations and fairy lights. Tradition is the main theme at Stuttgart's Christmas market. As usual, the market stalls in the city have a wide range of products to choose from: Christmas gifts, unusual candles, handmade goods, sweet treats, traditional delicacies, Christmas tree balls, straw stars, crib figures, mulled wine, punch and lots more.
Contemplative concerts and a mini-railway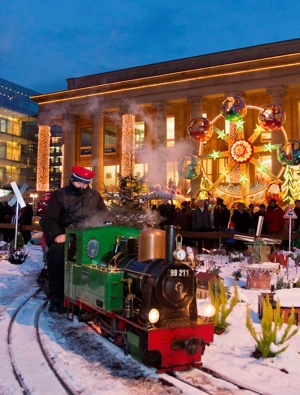 Photo: Thomas Niedermueller
Music groups and choirs from Stuttgart and the region round off the special flair of the Christmas market musically. The concerts take place in the inner courtyard of the Old castle as well as in the collegiate church. For the little visitors there is a fantastic mini-railway and the nostalgic merry-go-round to take them on a journey through the winter landscape. Great hands-on activities don't leave the little ones bored and makes a visit to the Stuttgart Christmas market a real pleasure and unique experience.
The festive and atmospheric flair of the Christmas season can be enjoyed by the Christmas market visitors on a discovery tour with the Experience Hop-on/Hop-off double-decker buses – two different tours the city of Stuttgart are available showing the city from its very special side. (www.stuttgart-tourist.de)
Christmas market opening hours:
Monday to Thursday: 10:00 – 21:00 hrs.
Friday and Saturday: 10:00 – 22:00 hrs.
Sunday: 11:00 – 21:00 hrs.
Wednesday 29 November 18:00 – 21:00 hrs.