What's on Kaiserslautern, Ramstein, Landstuhl
Wadgasserhof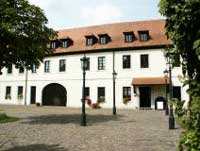 Wadgasserhof, Steinstrasse 55,
67653 Kaiserslautern
Tel: 0631 365-2326
Open: Tuesday to Friday: 9 am to 5 pm; Saturday and Sunday: 10 am to 6 pm; Closed Monday
Photo: © Stadt Kaiserslautern
---
K1 HIGH ROPES Course Fröhnerhof
The attraction in the Palatinate forest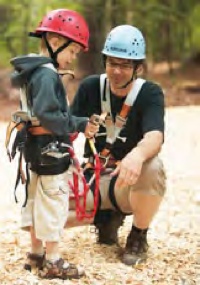 Climbing Fun – Up the trees
A wonderful piece of nature, healthy trees, a few loads of building wood, many meters of steel and the enthusiasm you bring along – these are the "ingredients" for this attraction in the Palatinate Forest: At the K1 High Ropes Course Fröhnerhof you can discover for yourself the purest joy of climbing! The courses consist of exercises which make the way from one platform to the next a genuine adventure, with obstacles made from cables, swings, rope bridges and wooden bridges.
CLIMBING FUN FOR EVERYBODY
Alpine safety equipment makes it possible: you, too, can balance, slide and climb high up among the tree tops in the K1 High Ropes Course Fröhnerhof! A fascinating experience for everyone – from schoolchild to sports climber. The different grades of difficulty on the courses take care of that, offering exactly the right challenge for every demand.
K1 – THE IDEAL DESTINATION FOR
Family tours
School trips
Team-Events
Club and company excursions
Birthday parties
… and of course also for you!
---
"The SNUG" Irish Pub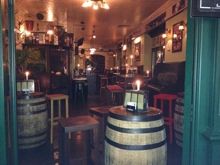 Kaiserslautern's newest and funnest place to be
Opened in August 2013 in the location of former Irish Pub, Thursty Nellys, it has been totally transformed by new manger, Lisa Muehlberger.
Live Music
The Snug Irish Pub is fast becoming known as one of the best places in Kaiserslautern to hear live music.
---

KAMMGARN Kaiserslautern
The Kammgarn is one of the top venues in Germany and for years has been an internationally respected, first-call concert hall for pop, rock, hip-hop, rap, indie, jazz, blues, comedy, cabaret, punk, goth, infotainment and more.
---
Fruchthalle Kaiserslautern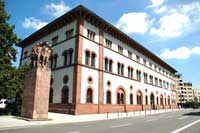 Tickets for concerts at the Fruchthalle Kaiserslautern are available from:
Tourist Information Office, tel. 0631 365-2316, Pop Shop, tel. 0631 64725, Thalia Ticket Service, tel. 0631 36219-814 and at all further ticket online advance sales points (Ticket hotline: 0180 5170517), in the Internet at www.ticketonline.de and from home via "print@home" via www.ticketonline.de, as well as from Rheinpfalz Ticket Service (hotline 0180 5003417), in all offices, service points and advance sales points of the Rheinpfalz.
Fruchthallstr. 10, 67655 Kaiserslautern
Tel.: 0631 – 3653450
www.fruchthalle.de
Mondays, Tuesdays and Thursdays: 09-12 noon, Wednesdays: 09-16:00, Fridays 09-13:00
Photo: The Fruchthalle © Stadt Kaiserslautern
---
Pfalzgalerie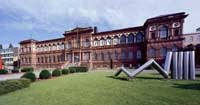 Pfalzgalerie, Museumsplatz 1, 67657 Kaiserslautern
Tel.: 0631 3647201
Tuesday: 11:00 – 20:00, Wednesday – Sunday: 10:00 – 17:00, Closed Mondays
The Museum Palatine Gallery in Kaiserslautern was founded in 1874 as a museum of Trades and Crafts. The museum building was constructed from 1875 to 1880. Today, its main focus is on painting and sculpture from the 19th to 21st centuries.
The permanent collection includes: nos amis. Abstrakte amerikanische Kunst aus französischem Privatbesitz (our friends. Abstract American Art from a Private French Collection)
Photo: © Stadt Kaiserslautern
---
Theodor Zink Museum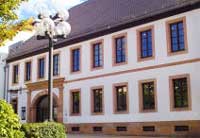 Theodor Zink Museum, Steinstr. 48, 67657 Kaiserslautern
Tel. 0631 365-2327
www.theodor-zink-museum.de
Tuesday to Friday: 9 am to 5 pm;
Saturday and Sunday: 10 am to 6 pm;
Closed Monday
Guided tours by telephone arrangement
Permanent Exhibition: Kaiserslautern – Time Pictures from Ten Millennia
Times of Opening: Wednesday to Friday 10am to 5pm, Saturday and Sunday 11am to 6pm, Closed Mondays and Tuesdays

Documentation – Stations of a Municipal Museum
From the History of the Theodor Zink MuseuEmmerich Smola School of Music and Music Academy
Photo: © Stadt Kaiserslautern
---