Inkwire Magazine – Your Daily TV & Movie Update
inkwire magazine English language internet portal for AFN TV Guide, Leisure, Entertainment & Business Information
Homburg Flea and Antiques Market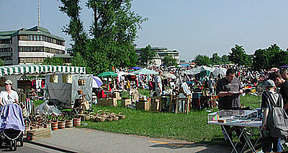 The next Flea and Antiques market will be held on Saturday, April 1. from 08:00 – 16:00
The biggest flea and antiques market in southwest Germany, Homburg Flea and Antiques Market takes place in the area known as the Forum, in front of the Homburg Rathaus (town hall).
---
AFN TV, Sports & Movie Schedules
Check the Channels – AFN TV Schedules:
The inkwire AFN TV Online schedules are Central European Summer Time and updated several times a day!
Daily updates of some of the most popular, AFN TV, Sports & Astra satellite movie channel program schedules and background info on the movies
---

---
Kaiserslautern Zoo
The Kaiserslautern Zoo is a popular destination located in Siegelbach in the northwestern outskirts of the city's suburbs: an oasis of tranquility where you discover nature, and learn interesting details about the kingdom of animals.
---
---
---
---
15th Kaiserslautern Classics
24. June, 2023
Classic Car Show · Old, Vintage & Young-timers · Motorcycles · Tractors · Emergency rescue vehicles · Live music from the 50's, 60's & 70's
---
The National War and Resistance Museum, Overloon, Holland.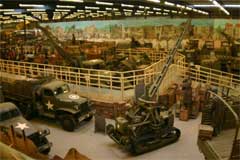 The 35-acre area of the museum was once a battlefield where German and Allied Forces came to blows in the autumn of 1944. Today the battle site, now named Liberty Park, is home to one of the best military museums in Europe. Exhibits from wartime occupied Holland and the horrors of the Nazi persecution and death camps, and displays of more than 150 vehicles, vessels and aircraft from World War II.
Homburg Ceramics Market
Saturday April 1 from 10:00 to 18:00 and
Sunday April 2 from 11:00 to 18:00
The county and university town of Homburg and the Saarpfalz district welcomes all exhibitors and visitors to the Homburg City Center for the 18th annual "Keramikmarkt". A collaboration of the Saarpfalz-Touristik agency and the county and university town of Homburg.
---
---
Schwaben Park
Located in the Rems-Murr-Kreis district in Baden- Württemburg. Over 40 Rides and Attractions
---
Buying a Car in Europe
U.S. Military personnel stationed in Europe have the opportunity to buy a new car at substantial rebates over prices in the United States. Benefits of military car sales programs include tax-free sales, fixed dollar prices and U.S specs.
Military sales program prices are fixed, so there is no time-wasting hassle, no need to bargain, no need to contact many different dealers to try to get the best price – everyone pays the same. Staff working for the various military sales programs are specialists trained to give help and advice on all aspects of buying a U.S. spec car in Europe including help with home shipping and financing.
---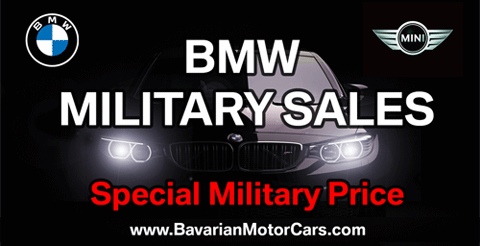 Heidelberg
Heidelberg Castle & Old Bridge ©GNTB/ Francesco Carovillano
Heidelberg is known to tourists for its famous castle, for Germany's oldest university and for lanes in the Old Town that are steeped in history attracting people from all over the world.
Heidelberg's castle ruins have been famous for centuries as romantic ruins, so they've not been fully restored. Yet this is one of the most evocative castles you might visit in Europe.
Heidelberg Castle Illumination and Fireworks: Several times every year, the Castle Ruin is bathed in red light in memory of the two fires of 1689 and 1693.  Dates 2023 June 3, July 8, September 2.
---

---
The golden spires of Speyer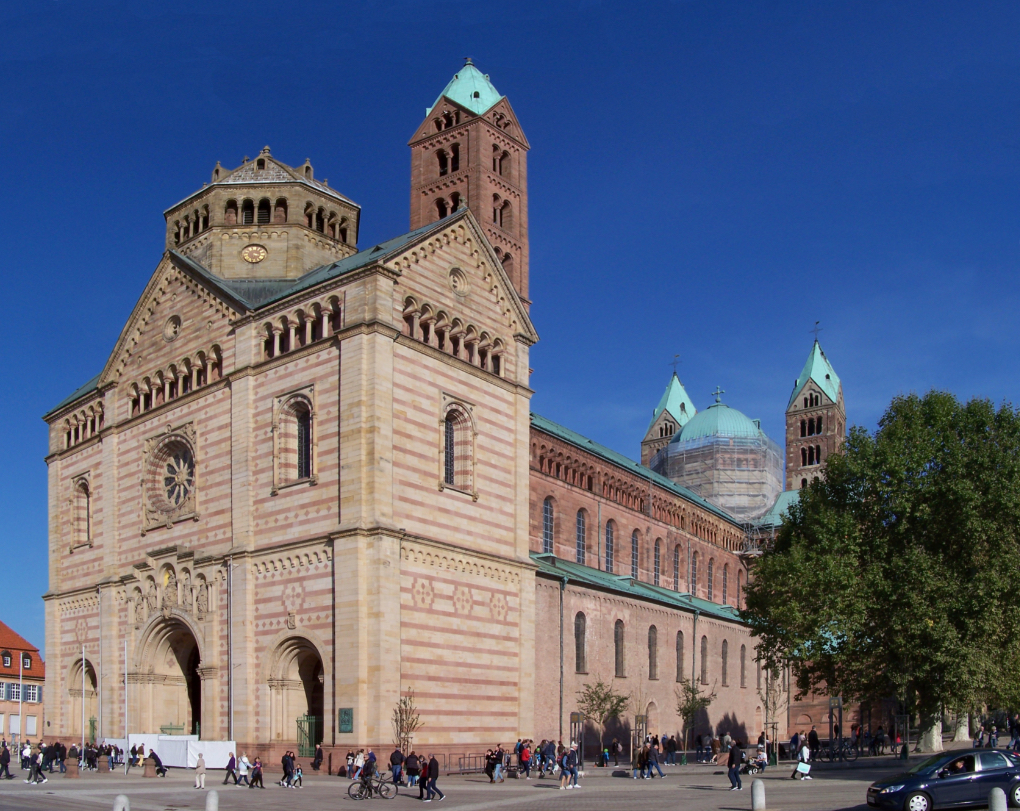 Speyer's magnificent cathedral
Crossing the Rhine, the vast Cathedral with its four towers is imposingly massive even today. So what sort of impression must it have made when first consecrated in 1061?
It was certainly designed to impress, because its founder, the newly elected German Emperor, Conrad II, wanted to create a fittingly grandiose burial church for himself and his heirs of the Salian dynasty.
Mannheim Maimarkt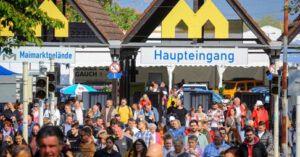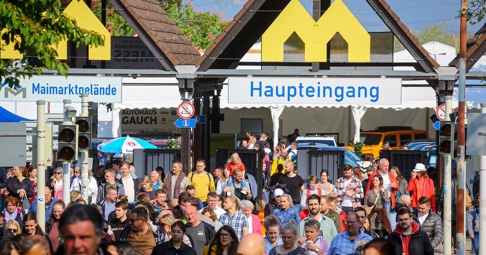 Markus Prosswitz / Photo-Proßwitz
29. April – 9. May 2023. Germany's largest and oldest consumer trade fair
The Mannheim May Fair dates back 410 years to 1613, and since 1989 takes place at the Maimarkthalle off Autobahn A656 near the airport, southeast of Mannheim. This year's annual Mannheim Maimarkt, a gigantic lifestyle exhibition, opens 29 April and runs through 9 May. It is open daily from 9 a.m. – 6 p.m.
---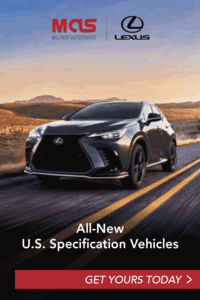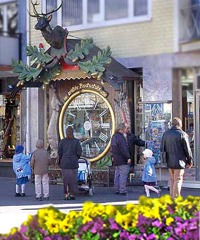 The world's most famous "Cuckoo Clock".
---
Taunus Wunderland
Wonderful Taunus Wunderland – Action, Fun & Thrills for the whole family. Located in the Taunus hills, in the pretty spa town of Schlangenbad, close to Wiesbaden and about a half an hour's drive from Frankfurt.
---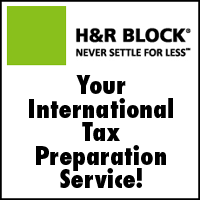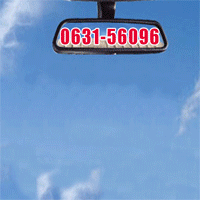 ---
German Museum of Technology – Berlin
Repair! Use instead of waste
Repairing is sustainable and fun! Special exhibition for families: With lots of hands-on activities and free workshops. From 07.12.22 to 03.09.23 
---
The Oppenheimer cellar labyrinth
An adventure for the whole family
Weather independent, open all year and an experience for the whole family. This is how 1000 years of history present themselves under the feet of the visitors of the Oppenheimer old town. A worth seeing historical treasure of national importance.
---

---
Draisine Tours in the Glan Valley
What to do with 40 kilometres of railway track that no-one needs anymore? Simple: keep using it, only with different vehicles.
This is the opportunity that offered itself in the Glan Valley between Altenglan and Staudernheim a half hour's drive north of Kaiserslautern. The one-track draisine line makes a great first impression through the charm of the surrounding landscape, where the eye can rove at leisure while riding a draisine instead of rushing past behind the wheel of an automobile.
---
---