Draisine Tours in the Glan Valley
What to do with 40 kilometres of railway track that no-one needs anymore?
Simple: keep using it, only with different vehicles.
This is the opportunity that offered itself in the Glan Valley between Altenglan and Staudernheim a half hour's drive north of Kaiserslautern. The one-track draisine line makes a great first impression through the charm of the surrounding landscape. Even natives marvel at the idyll of the Glan valley, where the eye can rove at leisure while riding a draisine instead of rushing past behind the wheel of an automobile.
Scattered along the route, in every locality and at least once every 1.5 km, there are stops where the draisines can be parked. After all, any draisinist will not only be interested in this unusual way of travel but also have a sense of adventure. Along the route, there are many opportunities for flying visits – museums, architectural treasures, art and culture as well as regional gastronomy and vineyards.
Food and Drink
The "Musician's Country", around Kusel, is a hospitable region. Visitors seldom leave hungry or thirsty. To offer guests some orientation, the culinary route was founded. The participating gastronomical enterprises, bakers, butchers and agricultural self-marketers set high quality standards for regional products. The recipe for success is: produce regionally, refine regionally, and if possible, eat and drink regionally. See for yourself while shopping, picnicking, or eating out. More detailed information can be found via the tour planner on the English language website.
The Draisines
Bicycle Draisine
The bicycle draisine has room for four adults. Two of them must pedal, two passengers can relax on the bench behind.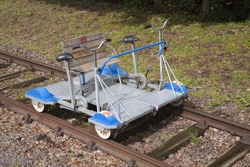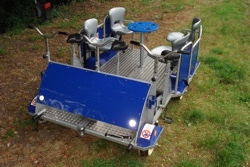 Conference Draisine
Fore more sociability on tour, there's the conference draisine. Three people pedal, four can sit around the "conference table."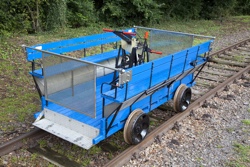 Hand-Operated Draisine
The hand-operated draisine is conceived for groups between 8 and 13 people. Four operate the lever, the others can sit on the benches.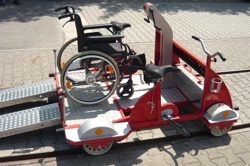 Barrier-Free Draisine
The draisine is outfitted with two pedal systems and one lever operation, allowing three people on board.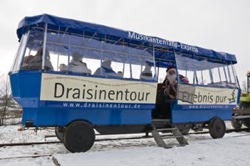 Covered Wagon Draisine
The covered draisine carries up to 20 passengers. They need only watch and marvel, as the covered draisine is pulled by a tractor.
The Route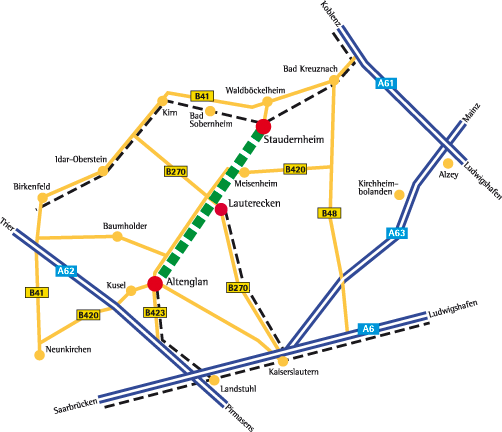 ---
For more detailed information please visit the English language website:
---