Concerts, Festivals & Events Guide
English language guide to concerts and events in Germany, Festivals of wine and beer, sausage and cheese, exhibitions, events, a what's happening and things to do in Germany and neighboring European countries.
---
Christmas Markets 2022
In addition to seasonal events during the winter months, Christmas markets everywhere provide an atmospheric ambience. Children can look forward to all kinds of exciting, entertaining activities, nostalgic carousels, storytellers, Santa Claus, Christkind and Santa Claus with his host of helpers, while adults admire the magnificent displays, the sparkling Christmas tree and the lovingly designed nativity scene while sipping mulled wine.
---
Christmas tree market Kaiserslautern
Looking for a Christmas tree ?
From December 10, you'll find a wide selection of trees at two stands.
The Christmas tree market at the corner of Bismarckstrasse and Barbarossaring will open its doors on December 10 and will then be open daily until December 23, from Monday to Saturday from 9 a.m. to 6 p.m., and on Sundays from 10 a.m. to 6 p.m. A wide selection of different species will be for sale at two stands, including spruce, Douglas fir, noble fir and many more.
---
48th Homburg Nikolausmarkt
Friday November 25 until Tuesday December 06, 2022
Homburg's Christmas market – the Nikolausmarkt – loved throughout the country for its uniquely nostalgic character and one of the most traditional Christmas markets in the region – takes place this year for the 48th time.
Every year, stalls – little wooden houses – selling Christmas gifts and handicraft items as well as Christmas decorations and other seasonal goods are set up in the shadows of the mighty St.-Michaels-Kirche (St Michael's Church) at the foot of the Schlossberg.
---
Homburg Flea and Antiques Market
The biggest flea and antiques market in southwest Germany, Homburg Flea and Antiques Market normally takes place on the first Saturday of the month, in the area known as the Forum, in front of the Homburg Rathaus (town hall).

The next Flea and Antiques market will be held on Saturday, November 5. from 08:00 – 16:00
---
Andy Warhol Exhibition
MAINZ – Visit the exhibition "ANDY WARHOL – THE ART OF POP" at the mainz STORE and get to know the colorful world of the artist!
Over 30 exhibits by the 1928-born representative of Pop Art culture will be on display: from his famous "Campbell's Soup Can," to freehand drawings, to motifs featuring his trademark silkscreen process as a means of reproduction, and images of prominent personalities.
---
---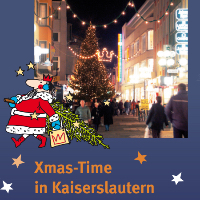 ---
---
Sightseeing Tours Kaiserslautern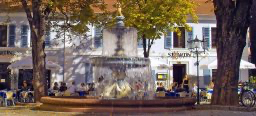 Come along with us and let us take you on a journey through the history and culture of the ancient times of 'K-town'.
---

---
Kaiserslautern Zoo
The Kaiserslautern Zoo is a popular destination located in Siegelbach in the northwestern outskirts of the city's suburbs: an oasis of tranquility where you discover nature, and learn interesting details about the kingdom of animals.
---

---
---