Concert Calendar & Events Guide
English language guide to concerts and events in Germany, with contact info for tickets and reservations.
Festivals of wine and beer, sausage and cheese, exhibitions, events, a what's happening and things to do in Germany and neighboring European countries.
---
Homburg Flea and Antiques Market
The biggest flea and antiques market in southwest Germany, Homburg Flea and Antiques Market takes place on the first Saturday of the month, in the area known as the Forum, in front of the Homburg Rathaus (town hall) and the Landratsamt.

The flea market is open from 8 a.m. to 4 p.m. and on sale are all the regular things you'd expect to find as well as antiques and handcrafts.
---
---
"Art is for everybody"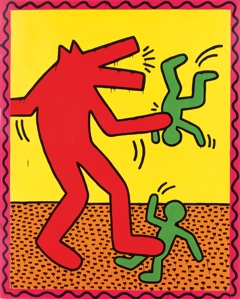 Major Keith Haring retrospective starting 21 August at Museum Folkwang
Between 21 August and 29 November 2020, Museum Folkwang in Essen will present a comprehensive exhibition of works by US artist Keith Haring (1958–1990).
With his unmistakable motifs of dancing figures, barking dogs and flying saucers, his message was comprehensible to all.
This exhibition presents Haring not only as an artist, but also as a performer, activist and organiser who never compromised on innovation and relevance in his quest for a fairer society. Some 200 exhibits are on display, including famous paintings, large-format drawings, early video works, sculptures, photographs and archive material.
---
---