Concerts, Festivals & Events Guide
English language guide to concerts and events in Germany, Festivals of wine and beer, sausage and cheese, exhibitions, events, a what's happening and things to do in Germany and neighboring European countries.
---
Homburg Flea and Antiques Market
The biggest flea and antiques market in southwest Germany, Homburg Flea and Antiques Market normally takes place on the first Saturday of the month, in the area known as the Forum, in front of the Homburg Rathaus (town hall).

The next Flea and Antiques market will be held on Saturday, April 1. from 08:00 – 16:00
---
Homburg Ceramics Market
Saturday April 1 from 10:00 to 18:00 and
Sunday April 2 from 11:00 to 18:00
The county and university town of Homburg and the Saarpfalz district welcomes all exhibitors and visitors to the Homburg City Center for the 18th annual "Keramikmarkt". A collaboration of the Saarpfalz-Touristik agency and the county and university town of Homburg.
---
---
German Museum of Technology – Berlin
Repair! Use instead of waste
From 07.12.22 to 03.09.23
Repairing is sustainable and fun! Special exhibition for families: With lots of hands-on activities and free workshops.
Mannheim Maimarkt – 410 Years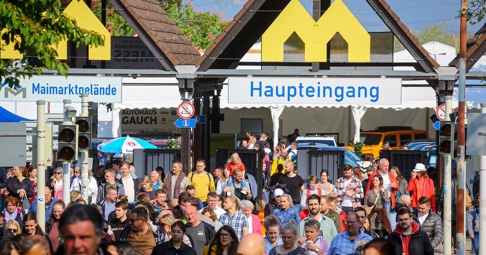 Markus Prosswitz / Photo-Proßwitz
29. April – 9. May 2023
Germany's largest and oldest consumer trade fair
The Mannheim May Fair dates back 410 years to 1613, and since 1989 takes place at the Maimarkthalle off Autobahn A656 near the airport, southeast of Mannheim. This year's annual Mannheim Maimarkt, a gigantic lifestyle exhibition, opens 29 April and runs through 9 May. It is open daily from 9 a.m. – 6 p.m.
---
15th KAISERSLAUTERN CLASSICS
24. June, 2023
Classic Car Show · Old, Vintage & Young-timers · Motorcycles · Tractors · Emergency rescue vehicles · Live music from the 50's, 60's & 70's
---
Kaiserslautern Zoo
The Kaiserslautern Zoo is a popular destination located in Siegelbach in the northwestern outskirts of the city's suburbs: an oasis of tranquility where you discover nature, and learn interesting details about the kingdom of animals.
---

---
---