Homburg, Saar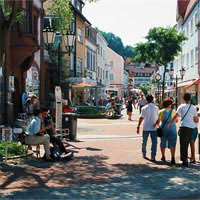 Homburg is a charming small city in the Saarland region of south-west Germany, with a population of about 44,000. It's about 25 miles west of Kaiserslautern, 16 miles west of Landstuhl.
During the summer months concerts are held at the historical market place on weekends and public holidays.
As well as the historic old town with its cafes, restaurants and winebars, sights include the Schlossberg Höhlen (Schlossberg Caves), Burgweg, 66424 Homburg and the Roman Museum, or Römermuseum, an open-air museum which shows scenes from Roman-era life 2,000 years ago.
Concerts and Other Events in Homburg
---
The next Homburg flea market will be held on:
All Markets cancelled until further notice due to Corona Shutdown
---
Upcoming Events – 2020
---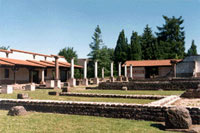 Römermuseum
Homburger Strasse 38
Homburg-Schwarzenacker
The Römermuseum is open from April to October daily 09.00 – 17.00 except Sundays – 15.00 and in November, February and March daily 10.00 – 16.00, closed December and January.