Your four-star Vienna House Easy Mo.Hotel Stuttgart
Hauptstraße 26 | 70563 Stuttgart | Tel. +49 711 28056-0
E-mail: info.easy-stuttgart@viennahouse.com | Internet: Vienna House Easy Mo. Stuttgart
The four-star Vienna House Easy Mo. is the ideal starting point for all your activities in and around Stuttgart. The rooms have been tastefully designed in an individual, modern and functional style. Coffee and tea-making facilities starting from the Comfort room category, a bottle of mineral water upon arrival, Wi-Fi and Sky TV are free of charge for all guests. Relax and unwind in the spacious sauna and fitness area. The Restaurant Gasthouse and the Lounge Bar offer ample room for hospitality. Always in tune with your wishes, the kitchen service team knows how to strike the balance between creative and classical cuisine.
Metropolis Stuttgart not only attracts visitors with its countless must-see sights including the Mercedes-Benz Museum and Wilhelma, the city is a real cultural melting pot.
131 rooms and suites · Sauna and fitness area · Central location · Parking (for a fee) · Free Wi-Fi
The hotel rooms
Standard room
At 23 m², the Standard single rooms as well as the standard double rooms offer you total comfort.
Deluxe room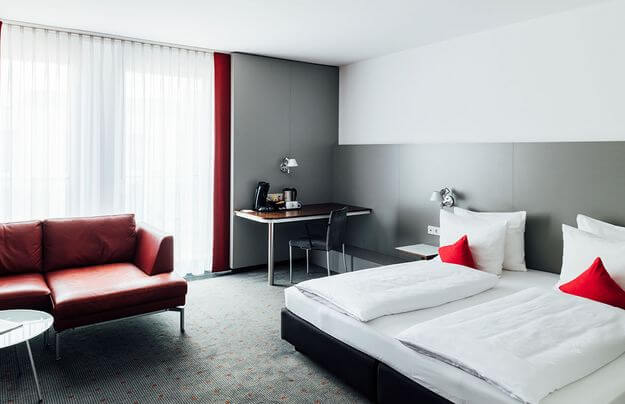 Designed with space in mind at almost 40 m², the Deluxe rooms offer the ultimate level of comfort.
Longstay room
The 34-40 m² apartments with kitchen are the ideal place for a long-term stay. You'll feel right at home in these cosy rooms with a separate, fully equipped kitchen including stove, refrigerator and dishes to prepare your meal.
Comfort room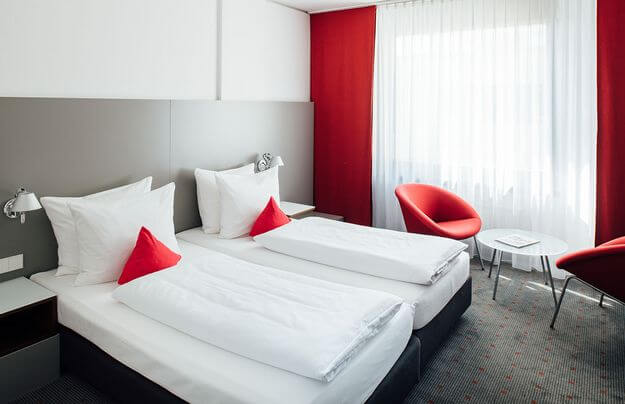 The modern Comfort Rooms offer an upscale ambience with a generous 27 m² of floor space. With views of the new Stuttgart-Vaihingen centre and historic downtown Vaihingen, the rooms invite you to linger.
The four-star design hotel Vienna House Easy Mo. Stuttgart is distinguished by its modern, tasteful, functional and uniquely furnished rooms. With Standard rooms, Comfort rooms, Deluxe rooms, Long-stay rooms and Disabled-friendly rooms to choose from, it has the perfect room to suit your wishes or requirements.
But it's not just the rooms that impress – it's the whole package. Expect spacious sauna and fitness areas, a hospitable Restaurant Lounge-Bar und Gasthouse: A casual inn with many favorite dishes and regional classics – here you can philosophize about the best Maultaschen with potato salad, enjoy the all-time favorites and chat comfortably over a freshly tapped beer or a quarter of wine. The Stuttgart Gasthouse is a melting pot for young and old, where you can hang up your tie and enjoy the many bargains found in the shopping paradise of the Swabian metropolis. Here's to a good time!
The Vienna House Easy MO. HOTEL Stuttgart looks forward to welcoming you and winning you over with the service and offers.
Your four-star Vienna House Easy Mo. Stuttgart
Hauptstraße 26 | 70563 Stuttgart | Tel. +49 711 28056-0
E-mail: info.easy-stuttgart@viennahouse.com | Internet: Vienna House Easy Mo. Stuttgart