Katzenbacher Hof – the destination in Stuttgart
The Katzenbacher Hof located near Stuttgart Vaihingen, surrounded by the Spital forest and two lakes, has been THE destination for young and old for over 30 years.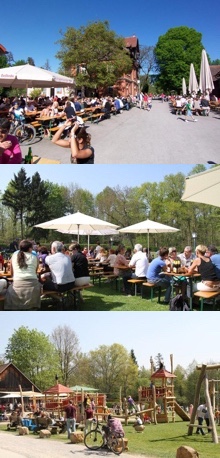 The Katzenbacher Hof offers a tasty assortment of snacks for you. Whether traditonal German cake with coffee, Vienna sausages with bread, Obazda (a Bavarian cheese delicacy) or handmade Swabian Maultaschen; all ingredients come fresh from regional specialty stores and not from anonymous wholesale markets. All meats are supplied by the Bienzle family butchery in Vaihingen.
The cozy Forsthaus offers a very special gastronomic experience at any time and in any weather. Try a glass of our freshly fermenting wine straight from the barrel!
And when the sun is shining, it's time to fire up the grill . . .
Always a good reason to escape the big city for a short while!
Open: Daily from 11:00 · Sundays and public holidays from 10:00
Katzenbacher Hof · 70569 Stuttgart
Tel.: 0711 681411
E-Mail: Katzenbacherhof@outlook.de
Internet: www.katzenbacherhof.de