Our experience – Your advantage
New and used car sales – Auto repair and services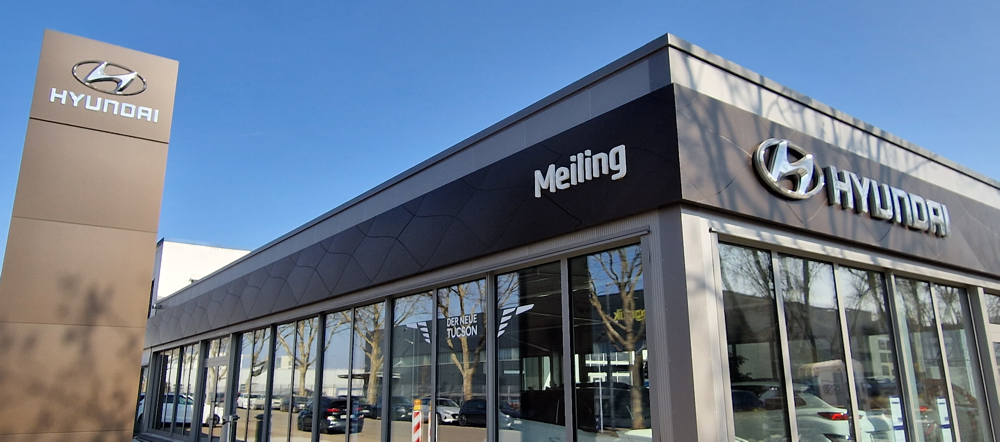 Autohaus Meiling GmbH
Welcome to the world of Hyundai in Böblingen.
Benefit from our diverse range of brands and over 2 decades of experience.
Our medium-sized, family-run company offers you a large selection of new, demo and used vehicles as well as our professional full service for all makes.
Drop by and find out what we can do for you. We look forward to your visit!
Our range of services include:
New and demo vehicles
Large selection of used cars
Inspections and repairs at reasonable rates
Customer service and accident replacement vehicle
Breakdown and collection service
First class bodywork repairs
Reasonable rates for financing, leasing and insurance
Accident repairs and insurance claims processing
Hail damage repairs
Professional repair of chipped windscreens
Brakes and suspension tests
Wheel alignment
Vehicle registration service
Spares and accessories
Tire service including storage of winter/summer tires
Inspection and exhaust emission tests
Installation and maintenance for air conditioning, heating, car telephone and handy systems
Car cleaning – ozone cleaning, paintwork etc.
and much more . . .
Contact
Autohaus Meiling GmbH
Wolf-Hirth-Strasse 29, 71034 Böblingen
Tel: (07 031) 22 40 57 – Fax: (07 031) 22 40 44
Internet:  Autohaus Meiling
E-mail: verkauf@autohausmeiling.de
How to find us: