AMERICANA – Europe's #1 Western Horse Show!
Friedrichshafen
6. – 10. September 2023
World Class Sport, Top Evening Shows & Country Music Festival
Europe's absolute Highlight for every Western Rider and Western Fan!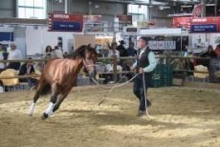 Europe's No. 1 western event will take place from 6 to 10 September at the exhibition grounds in Friedrichshafen and thus in the middle of one of Germany's most beautiful vacation regions.
This Lake Constance transportation hub hosts a variety of international trade shows, including Pferd Bodensee, which regularly attracts more than 30,000 visitors. "We are very excited about the new western format as well as the chance to host a horse spectacle in our halls every year in the future," says project manager Jana-Marie Roth from Messe Friedrichshafen. After corona-related exceptional scheduling, Pferd Bodensee will in future return to its established February date in the even years (16 to 18 February2024) and will take place in alternation with AMERICANA as an autumn event in the odd years. AMERICANA, with its unrivaled mix of top sport, event and Europe's largest trade show for western and leisure riding, attracts over 300 exhibitors and more than 50,000 visitors from all over the world every two years.
Top Western Riders from all over the World will be competing in different disciplines. The Reining Trophy events, Cutting Championships and Cow Horse classes have contributed to bring AMERICANA to its global importance for the industry. Fascinating evening shows with top sport finals and excellent show-parts. The biggest trade show for western and recreational riders outside of the USA, with over 240 vendors.
Whether your interest is recreational, professional or somewhere in between, the AMERICANA is the absolute highlight for every fan of this fascinating sport and the culture of the American West. During the five-day event Europe's biggest fair for Western equestrian and recreational riding will offer everything around horses and the Western Way of Life. Whatever you are looking for, be it as a horse owner, rider, or fan of horses and the western lifestyle – the AMERICANA is the place to be: Saddles, horse tack, bits, boots, hats and jeans, horse care products, but also stall and pasture equipment, as well as trailers, tractors, and everything else that you can think of for and around our beautiful (western) horses.
Daily country music live in the famous Red Grizzly Saloon, fun in the Western Town and much, much more!
Top Western Riders from all over the World compete in daily horse show classes, e.g. Reining, Cutting, Working Cow Horse, Trail, Pleasure, and Western Riding. Fascinating evening shows with top sport finals and excellent show-parts.

The AMERICANA evening shows are a unique combination of high class sport finals and fascinating show parts. A top performance of the horse and rider is necessary to qualify for the AMERICANA finals. But only the start in one of the finals allows a participant to win the title of a European or AMERICANA champion and a respectable amount of money.

The official European Championships in Cutting and Working Cow Horse take place at the AMERICANA.

The AMERICANA World Open Championship is the "Champions League" for Western Riders in Europe. The most important finals will take place during the AMERICANA Evening Shows.

Europe's biggest Trade Fair for Western and Leisure Riders. Over 240 vendors offer everything needed by horse and rider. You will find everything you heart desires: from a hoof pick to traditional American Indian jewelry, from saddles & tack as well as horse trailers to special equipments for an equestrian facility.

A one-of-a-kind atmosphere with daily country live music at the famous "Red Grizzly" Saloon and fun in the "Western Town" and much, much more.
---
22 years of AMERICANA 1986 – 2008
1988 – 2008 – In 2010, the Americana horse fair and show celebrated its 20th Anniversary at the Augsburg Fairground.
The first Americana was organized in 1986. There had been an open Western riding European Championship before of course (this show dates back to 1979), but both the name and the concept were new. The name AMERICANA goes back to an idea of WESTERN HORSE editor Hardy Oelke who suggested the name to Horst Geier. In 1986, the team Horst Geier, Andreas Völz and Uli Vey organized a completely new event: a mixture of top show, an exhibition and lots of entertainment – a unique fair of Western culture and Western riding. Today, AMERICANA is one of the most important and renowned events in Europe and known all over the world. In fact, it is among the NRHA Leading Reining Events. Americana is a "Mecca of Western Riding in Europe"- and this not only shows the status of this event but also its importance for the development of western riding in Germany.
The first two Americanas were organized in Munich. In 1986, 26,000 visitors came to the Olympia riding facility. There were traffics jams in the area all the time. For the first time, there were high class Italian competitors (remember Ricky Bordignon competing in the Barrel Race astride his Quarter Horse-stallion 'go Go'). Two years later the event went to the Olympia facility in the centre of Munich. More than 7500 visitors came to the evening show alone. For the first time, there was a Bronze-Trophy-Reining there offering a purse of DEM 12.000,– added in Open. The audience was great and the place as well, but not the conditions for the riders, So Americana 1990 went to the new fair ground at Augsburg – and immediately attracted 28.000 visitors.
From then on, AMERICANA became better and bigger every time. There were new classes like ERCHA Futurity or the Americana Reining Futurity. A Western Forum was established and more and more show and entertainment: The Westerntown, the Saloon and the tent as well as Country Musik live. The idea was obviously right: in 2000, there were 50.000 visitors, two years later, the event attracted 240 exhibitors.
In 2004, Americana's indoor arena was enlarged to international standard of 30 m width to offer optimum possibilities for cutting and reining. Also, cutters had the chance of using hall 2 as a "practice pen".
"Masters" in Pleasure and Trail
Besides the official European Championship of the European Cutting Horse Association as well as the European Reined Cow Horse Association and the NRHA-USA-approved Bronze Trophy Reining, Americana introduced a Masters Pleasure and a EUR 6,000.– Masters Trail in 2004 (the Masters-Pleasure was won by Barbara Cumiolo astride Hot As I Wanna Be and the Masters-Trail by Iris Oplusstil (AUT) astride Masters Mystique). 42,200 visitors came to the 2004 Americana. More than 130 journalists reported of the EUR 130,000.– event with 410 competitors from 15 nations. The absolute highlight of the 2004 show was Martin Larcombe winning the Bronze Trophy Open Reining astride Arc Oak Enterprise. Larcombe finished the season as NRHA World Champion.
"Americana is our Tour de France"
"Becoming an Americana Champion simply is the coolest – you can't compare it to anything else," says Grischa Ludwig, two times NF German Reining Champion and European Champion. He even compares this event to the "Tour de France": Grischa won both the Americana Reining-Futurity astride Great Red Whiz as well as the Working Cowhorse Open (astride FF Play My CD).
Markus Schöpfer dominated Reined Cow Horse Futurity
In 2004, Italian Markus Schöpfer won the Reined Cow Horse Futurity with Remilore and also placed second. But the cowhorse was not the only spectacular cattle class during the last Americana. The cutting show was won by Gianluca Munarini astride MR Pepto Fletch scoring a superb 150 in the final.
Americana promotes Western Riding in Europe
The idea of an event open to all riders and breeds proved to be right. All western breeds compete here – American Quarter Horse, Paint Horse and Appaloosas – as well as other breeds. Becoming a finalist of the Americana has become an important success.
Many famous trainers in the U.S.A. – like Tim and Mandy McQuay, Martin Larcombe, Shawn Flarida, Carl McCuistion, Bozo Rogers, Scott McCutcheon, Francois Gauthier, John Hoyt, Don Boyd, Todd Arvidson, Dean Latimer, Jeff Kasten, Andrea Fappani, Fred Berschauer, Rocky Dare, Craig Schmersal. Dough Milholland, Joe Hayes, Dell Hendricks, Todd Summers, Kim Dierks, Marcy Ver Meer, Tom Lions and of course the owner of Smart Chic Olena, Jim Babcock, – they not only enjoyed the atmosphere and the typical Bavarian beer, but also became known to European western riders.
In competing at Americana, numerous top riders contributed to promoting western riding in Europe- and in the U.S.A. as well. Americana did a lot for the promotion of reining in Europe and attracted lots of fans to western horses and western riding.