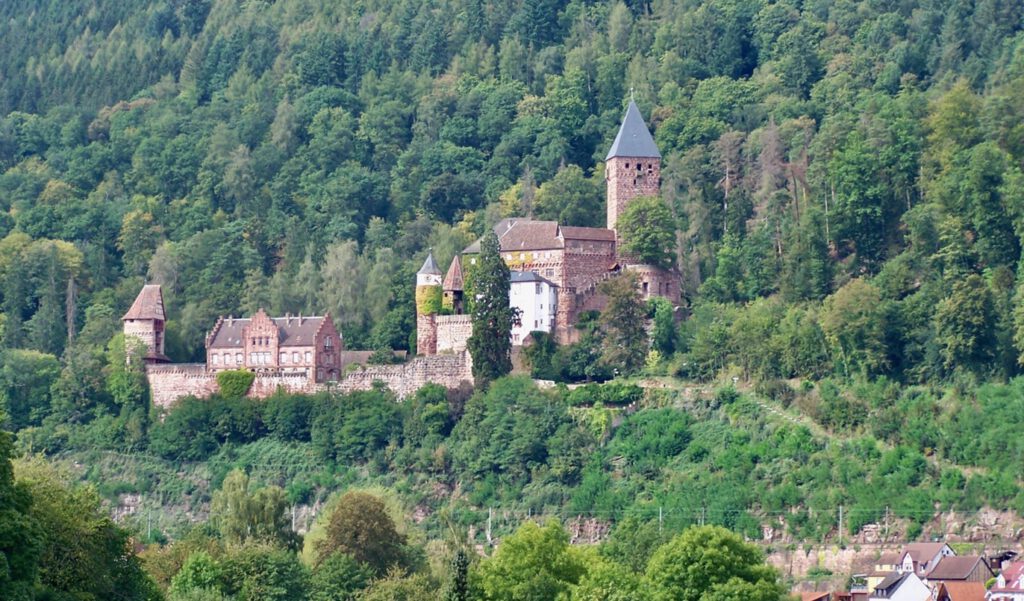 Zwingenberg Castle
The romantic castle of Zwingenberg stands high above the Neckar river between Heidelberg and Mosbach.
The castle was built high on a narrow mountain spur between the Neckar valley and the deep Wolfsschlucht gorge that flows into the Neckar valley,, the one side facing the river, the other to the gorge; both sides were thus hardly contestable.
From the castle grounds one can enjoy a magnificent view of the wild and beautiful, abundantly cultivated and busy Neckar valley, beyond to the hills of the Kraichgau, and northward to the wild Odenwald and the eastern Spessart. Behind the castle the Wolfsschlucht the so called "Wolfs Gorge" invites for wonderful walks, waterfalls and scenic forest hikes.
The castle is surrounded by two strong, sixty foot high walls. Two gates lead into the inner double courtyard. In front of it eight turrets once towered mightily above the walls, now there are only five remaining. The other three were demolished, but the changes in their depth are still visible. The main tower with three vaults one above the other contained a gruesome dungeon, and in the two upper vaults there are still the old large ovens that catered for a numerous castle crew. The other small towers, one of which is called the Powder Tower, were for economic use and for the storage of the bells.
The older main building forms an irregular figure composed of two parts connected by a vaulted gallery. Each part consists of four habitable floors, but only three are used. They are reached by two stone spiral staircases, beautifully shaped and decorated with ancient sculpture. In front of this older building, in more recent times, while the Counts Wieser owned it, a new annex was also connected with the main building.