Veterinary Practice Küke in Döllnitz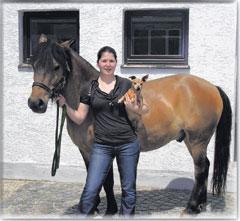 Nina Küke's modern veterinary practice is located on an idyllic farm in Döllnitz, only 5 miles from Grafenwöhr. Plenty of parking space is available.
All patients, both large and small are in good hands when treated by Nina Küke. The doctor's office and laboratory have been renovated to the most modern and highest of standards – a mobile x-ray-unit is also located at the practice. No appointment is necessary if you drop by during regular opening hours. In emergency cases the vet can be reached 24/7.
After studying veterinary medicine at a German university, Mrs. Küke completed internships in Australia (one year), where she studied at a clinic for embryo transfer, and in Kentucky in the USA. In the 'Bluegrass State' she gained valuable experience working at a private clinic for horses. During the following two years Nina Küke studied further as assistant to an experienced veterinarian. In June 2010 Nina Küke, who spent her childhood in Hannover, opened her own veterinary practice in Döllnitz, here you and your pets will benefit from her wealth of experience. All paperwork (forms, bills, health certificates) can be written in English, cashless payment and VAT forms accepted.
Veterinary Practice Küke
Nina Küke – Praktische Tierärztin,
Industriegebiet Döllnitz 12, 92690 Pressath
Tel.: 0 96 44 – 68 90 404 · Fax: 0 96 44 – 68 90 405
Practice opening hours:
Mon., Wed., & Fri.: 16:00 – 18:00 hrs.
Tue., & Thu.: 11:00 – 12:00 hrs.
Sat.: 09:00 10:00 hrs.
English spoken · VAT forms accepted
Internet: www.tierarztpraxis-doellnitz.de
Email: info@tierarztpraxis-kueke.de
24/7 Emergency cases please phone: 0 96 44 – 68 90 404