The V8 HOTEL – MOTORWORLD Region Stuttgart
Arrive and feel welcome in a unique atmosphere
In keeping with our motto, we welcome you in our four-star V8 HOTEL. It's all about the automobile.
---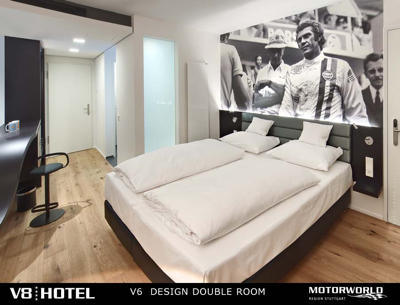 Our V6 design rooms in the classic modern style illustrate the automotive world with exclusive photographs and can be flexibly interconnected as family or group rooms.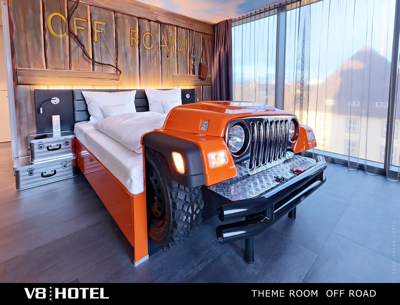 The V8 theme rooms allow you to immerse yourself in your very own subject area. Illustrations and custom furnishings made from real vehicle parts are combined to create a total work of art.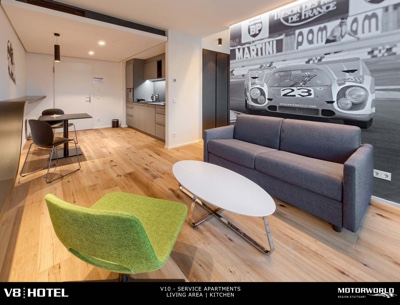 Our spacious V10 service apartments for up to four people with living, sleeping and dining areas as well as their own kitchen for a long-term stay or if you need a lot of space.
Our rooms have large bathrooms, air conditioning, high speed WiFi / Lan., laundry service, 24-hour reception service,
Parking area and garage, shuttle service, public transport and shopping nearby
VAT forms and Credit cards accepted
We are child, family and pet friendly.
The V8 hotel bar, our Pick-Up restaurant and a wellness and fitness area with a view make the V8 HOTEL a unique experience.
And all of this within the 24,000 square meter vintage car and motorsport center MOTORWORLD Region Stuttgart with hundreds of automobiles on display, five different restaurants, the V8 bar and meeting and event areas.

V8 HOTEL
Charles-Lindbergh-Platz 1, 71034 Böblingen
Tel.: +49 (0) 7031 306 98 80
E-mail: info@v8hotel.de • Internet: www.v8hotel.de