Tierärztliches Gesundheitszentrum- Wiesbaden
24 h on call for horses, weekend consultation hours for pets
Specialist Equine Clinic in Wiesbaden and Bad Homburg.
"Klinomobil" – Mobile diagnostic and care unit.
Small animal veterinary practice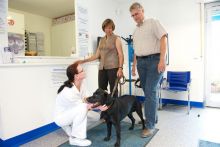 Our goal: to provide the best possible care for your animals.
Our small animal veterinary practice is equipped with all modern appliances to facilitate specific and quick diagnostics.
The team of seven vets has been trained to the highest standards in their respective areas of specialization. We are therefore able to diagnose and treat ailments in all animals from hamsters to horses. This service is supplemented by dental treatment, feeding consultation, canine clipping and physiotherapy. In special cases we recommend patients to competent colleagues for further diagnosis and therapy.
Opening hours:
Monday – Saturday 09:30 to 12:00 & Monday – Friday 16:00 to 19:00
and by appointment.
Emergency hours:
Saturday 17:00 to 18:00 · Sundays 11:00 to 12:00 & 17:00 to 18:00
For night time emergencies please call 0611 – 50 20 13
Please note (only for small animals): From 8 p.m. – 8 a.m. your telephone call will be automatically redirectetd to the veterinary on duty of the Wiesbaden Veterinary Emergency Network.
For lengthy, time-consuming examinations such as ultrasound, HD-X-ray, endoscopy, ECG and surgery, please arrange a special appointment.
Telephone Consultation: Dr. Litsch, Mon.-Fri. 09:00-10:00 • Dr. Eversfield, Mon.-Fri. 08:00-09:00
Small animal doctors: Mon.-Fri. 19:00-19:30
Tierklink Wiesbaden, Kloppenheimerstrasse 3, 65191 Wiesbaden

Tel.: 0611 – 502 013 · Fax: 0611 – 501 646
Equine clinic
We are a medium sized horse clinic with OP, post surgery stalls, two examination areas and accomodation for up to 5 horses in external stalls. Our Equine clinic undertakes all usual orthopedic, internal and gynecological examinations and surgery.
We are constantly adapting our personnel and equipment to the highest possible standards to meet the needs of our patients. Altogether five veterinarians, including two specialized veterinary surgeons for horses care for the horses undergoing treatment.
The in-house accommodation also serves the stationary treatment of more complicated medical conditions, which may not be able to be clarified with an ambulatory examination.
Ambulatory services take place both in the clinic and locally by means of our Klinomobil. By use of the most modern digital X-ray and ultrasonic equipment many examinations are possible by appointment in the clients own stables. In some cases a hospital stay may still be necessary.
We are happy to advise you in individual cases. With the combination of a high degree of knowledge and experience combined with the meaningful usage of diagnostic technology we are able to offer an optimal spectrum of treatment for our patients.
Personal telephone consultation hours:
Monday to Friday 08:00 – 10:00, Saturdays 09:00 – 10:00
Telephone Consultation:
Dr. Eversfield, Monday to Friday 08:00 – 09:00
Dr. Litsch, Mondy to Friday 09:00 – 10:00
Equine Clinic, Kloppenheimerstrasse 3, 65191 Wiesbaden
Tel.: 0611 – 502 013 · Fax: 0611 – 501 646
How to find us: