Sightseeing in Southern Germany
Vacation in Ulm, Regensburg and Garmisch-Partenkirchen. Mountains, lakes, castles, ancient cities, beer and lederhosen – that's southern Germany – Summer is a great time to explore this delightful part of the country.
Charming and historic Ulm
First stop Ulm. "In Ulm, um Ulm und um Ulm herum" – this famous tongue twister represents a very special city experience within the double-city of Ulm/Neu-Ulm on the Danube River. The glory of this city is its Münster, a spectacular church featuring the world's highest steeple  at 161.53 meters, although this has only been the case since it was raised to its present height in 1890. The building of this church, however, broke records even before that. Its capacity to accommodate 20 000 people greatly exceeded the size of the population at the time the church was founded. On a clear day, climb the spire's 768 steps and you may see the Alps.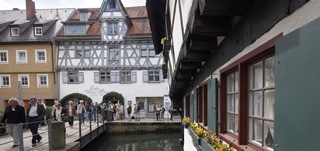 Fischerviertel ©Stadt Ulm
But my favorite part of Ulm is Little Venice," an area of canals that was the former quarters of fishermen and tanners. It's a delight, especially in summer with flowers spilling out of window boxes from the houses, which are perched right at the edge of the water.
This area was left untouched for many years after the extensive damage of World War II when 86 percent of Ulm was destroyed. About 25 years ago restoration began. The ancient half-timbered houses have been put back together and painted in pretty pastels. With rushing water, bridges and squares, Little Venice is a charm.
Back to that famous church whose spires dominate the skyline. Its foundations were laid in 1377 when there were only 10,000 inhabitants of Ulm. Nonetheless they planned a church for 20,000 worshippers.
In 1488, the Ulm-born Dominican monk, Felix Fabri, said the Ulm Münster was "ahead of all parish churches in the whole of Christendom." It was larger than many bishops' cathedrals with 51 altars. And, it was especially beautiful thanks to its Gothic architecture that allowed light to reach every nook and cranny.
Miraculously the Münster was almost unscathed during the war. Some of its stained glass windows had been removed for safekeeping, but they are back in place and superb in color and detail. The carved choir stalls are also real treasures.
Another structure of note in Ulm is the Rathaus (or town hall) colorfully decorated with paintings on its south façade, including one of an "Ulmer Schachtel," the characteristic flat-bottomed riverboat that carried goods down the Danube from the 16th century onward.
Walking along Ulm's 500-year-old city wall above the river is pleasant with views across the river to the neighboring town of Neu-Ulm on one side, and on the other, the steeple-dominated skyline of Ulm. The Butcher Tower, Ulm's leaning tower, is a crooked landmark near the river. With a pleasant pedestrian shopping area, outdoor restaurants, a charming old quarter and that magnificent church, Ulm is well worth a visit.
Ludwig's Neuschwanstein and Linderhof castles
Then head south on Autobahn 7 to Füssen for one of Germany's star attractions, King Ludwig II's castle at Neuschwanstein. Ludwig II, who ruled Bavaria from 1864 to 1886, is known as the "Fairy Tale King" and as "Mad King Ludwig". He was into building fantastic, outrageous, sumptuous castles, which led to his demise as his building projects were costing the state a fortune. Neuschwanstein, which was designed in the style of a knight's castle in the Middle Ages, is the most popular of the King's several castles in Bavaria with over a million visitors a year.
With its towers and turrets reaching for the sky from it's hilltop site, Neuschwanstein does indeed look like it came from the pages of a storybook. Walt Disney thought so, too, as he made a replica of the castle the symbol of his empire. Inside, however, the castle is quite modern. The kitchen, for example, was state-of-the-art for its time. Only 15 of the castle's 80 rooms were finished and furnished.
Neuschwanstein is located in Schwangau, just outside of the town of Füssen. From there head east toward Garmisch-Partenkirchen with a stop at Linderhof to see another Ludwig castle. Linderhof was his smallest but favorite palace, where he lived for most of the last nine years of his life. The rooms inside are lavish and beautiful, but what's outside is utterly amazing, a park with gardens, fountains, statues, an elaborate grotto and a small Moorish kiosk.
Be sure to go inside the Venus grotto that pays tribute to Tannhäuser, an opera by the German composer Richard Wagner whom Ludwig II greatly admired. A painting inside the cave depicts the opera's first act, and a shell-shaped boat complete with a throne floats on a pond in the grotto. The King liked to be rowed around the pool, which features waves generated by a machine.
Garmisch-Partenkirchen
Ponder the bizarre King as you head on to Garmisch, known to most Americans thanks to the Armed Forces Recreation Center (AFRC), which is headquartered there and offers a host of recreation programs. AFRC aside, Garmisch has a delightful pedestrian street for shopping, great views of surrounding mountains, wonderful and gemütlich restaurants.
Its adjacent city, Partenkirchen, is the place to go to see those pretty old houses decorated with "Luftmalerei," frescoes of alpine and biblical scenes.
Garmisch sits at the foot of the Zugspitze, Germany's tallest mountain. It's Germany's prime ski resort, but also offers a range of summer activities. You could spend a week in Garmisch hiking, golfing, rafting and bicycling. Whenever you decide it's time to leave, head northwest to Chiemsee for yet another Ludwig II castle.
Herrenchiemsee
Herrenchiemsee, on an island on lake Chiemsee, is the most extravagant of the Ludwig edifices. Ludwig was enamored of Louis XIV, France's Sun King. He wanted to be an absolute monarch like Louis, and he patterned Herrenchiemsee after the palace at Versailles. He even outdid Louis. The rooms at Herrenchiemsee are said to be larger than those in Versailles. Ludwig's Hall of Mirrors, for example, is 18 feet longer than the hall in the French palace.
Wandering from room to lavish room in this palace does make you wonder about the man behind it. Gold, marble, crystal, elaborately carved furniture. It appears he was out to create the most sumptuous palace possible and money was no object. The Hall of Mirrors is the pièce de résistance, but no room is too shabby.
The bathroom, with a bathtub that is a large swimming pool, is a bit much. The dining room, with a table that could be lowered through an opening in the floor to the room below so the servants could set the table, then raise it without having to disturb the King, is another mind boggler. The King's bedroom features a golden bed under a deep blue velvet canopy and a special globe that was installed to bathe the room in a soft blue light that pleased the king, who preferred night to day and usually slept during the day.
Regensburg
Leave Ludwig and the lovely lake behind and head northwest on autobahn 8 to Munich. Follow autobahns 9, then 93 north to Regensburg, one of Germany's oldest cities. The Romans founded a border camp there in 179 AD. Regensburg has even more claims to fame. It was a wealthy trading city in the Middle Ages, and the first capital of Bavaria. Its city center is protected as a monument, the largest city monument in Germany with 1,200 declared monuments in the town. It's a city of towers. At one time, there were 60. Only 20 remain today. And, it has Germany's oldest, preserved stone bridge, which is more than 850 years old.
A good place to begin your visit to Regensburg is just adjacent to the bridge, the Wurstküche, which calls itself "the oldest bratwurst stube in the world." It's a tiny, cozy place with dark wooden tables and benches, old photos on the walls, and copper pots and tin plates and steins on shelves. Patrons (it can hold about 30) crowd together and enjoy its specialties: potato soup, small, juicy Regensburg wurst and sauerkraut, all washed down with beer. The Wurstküche has tables and benches outside by the river for fair weather dining and drinking.
Regensburg, which has four breweries, is a city of beer and its citizens flock to its many beer gardens in summer. One even has beer flowing from a fountain during a special festival. But this city of beer has an Italian flair. Many of the old merchants' houses were influenced by the Italian architecture of the Middle Ages. The center city is very lively, and the place to live. Some 12,000 of Regensburg's 140,000 inhabitants live in the town center. As soon as the sun shines, they gather at outdoor cafés and restaurants.
Regensburg is a wonderful city for walking down the narrow cobbled streets and alleys with their beautiful old homes built by rich patrician families, through the shopping area, along the river, across the bridge. Make a stop at St. Peter's Cathedral, an imposing Gothic structure with spires and gargoyles. Check out the Porta Praetoria, the northern gate of the Roman camp where 6,000 soldiers were stationed to protect the Danube border. Its walls are 7-10 meters thick, and it is one of only two original Roman structures in Germany, the other, the Porta Negra in Trier.
Stop for refreshment in the Haus Heuport, a café housed in the former living room of a merchant's house that is more than 600 years old with stonewalls, arches and a beamed ceiling. There's no escaping the atmosphere of the Middle Ages in Regensburg.