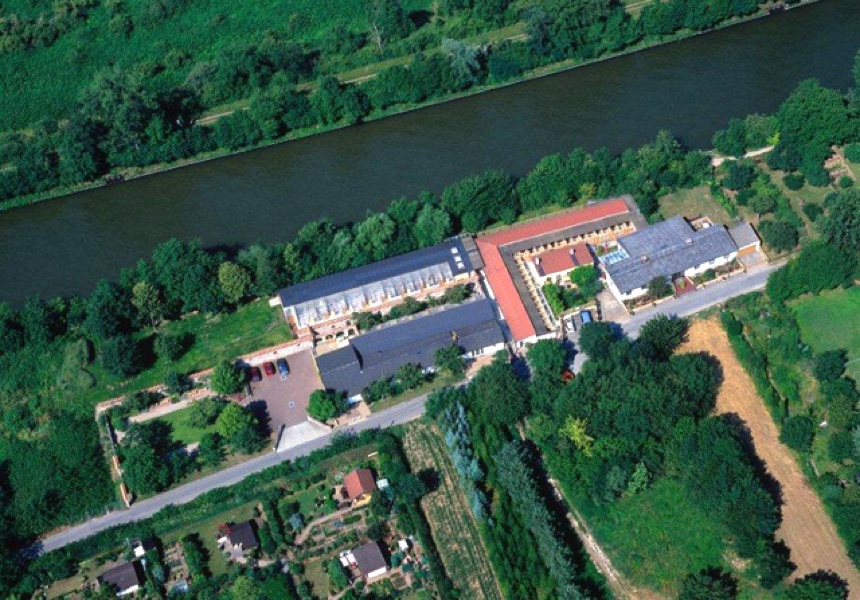 Rex Kennels – Heidelberg
Where your dog can enjoy being a dog . . .
The Helfrich family runs one of the most attractive boarding kennels in Southern Germany
Boarding and Schooling
Veterinary care
Obedience classes for dogs
Clipping, trimming, bathing, full grooming
Services and facilities also available for cats
Fast help with all canine problems: aggression, anxiety, attacking game and running away
Everyone who visits Rex Kennels on the banks of the Neckar river in Heidelberg is enchanted by the southern charm of the sand-colored stone walls and beds of roses which add to the attractions of the generous grounds. And it's not just for dogs: there is a cat house next to the dog kennels, with special exercise areas for cats.
House rule #1: take care of the needs of all animal guests.
Working with animals is a passion, not just a business, for owners Peter and Christine Helfrich who now run the traditional kennels and dog school which Peter's father Robert Helfrich founded in 1946 especially to provide a second home for the dogs of American soldiers. A lot has changed since then: the dogs these days tend to be members of the family rather than working dogs. And dog owners take a lot more vacations now and like to ensure that their pets can also enjoy a pleasant vacation.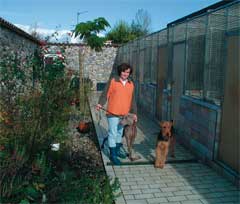 Manager Christine Helfrich is a trained animal-keeper. Her team includes two young keepers and she also trains apprentices. "Our professionalism makes us different from most other kennels," she says proudly, "our clients love that our staff have such a lot of knowledge and experience."
A family dog that stays at Rex Kennels is not a sad, lonely dog, it too is enjoying a pleasant vacation. It enjoys new experiences and spends time daily exercising with the other dogs in a large meadow. Most dogs share a double kennel but single kennels are also available. All dog kennels have an outdoor exercise area as well as a heated (in cool months) inside area.
Dogs have clear priorities; their own bed, their favorite food, water, plenty of exercise, variety, companionship, and they get all this at Rex Kennels. Up to 50 dogs at a time can board with the Helfrichs. Dogs can also spend the day at Rex Kennels, a service that families where everyone is out at work all day particularly appreciate.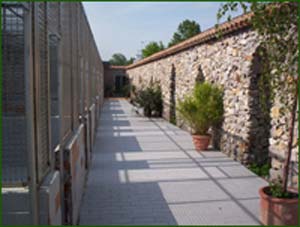 Dogs can also "go to school" at Rex Kennels. Peter Helfrich offers traditional dog obedience classes as well as a 14-day "boarding school for dogs". Dogs are trained first, and then their owners are shown how to act and react with their newly obedient charges.
Peter Helfrich specialises in treating many dog problems, including aggression, anxiety, running away, and attacking wild animals.
The Helfrichs round out their service by offering clipping, combing, and washing.
Visitors are welcome; please call in advance: 06221 – 412490.
More information is available on the web at www.hundeservice-helfrich.de.
NEW! NEW! NEW!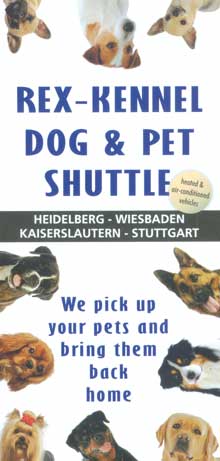 Download the application form from our website and fill it out.
Internet: www.hundeservice-helfrich.de
Send an e-mail with preferred date and filled out application form to:
Please enter phone number.
Wait for appointment call – ready.
Rex Kennels
Robert P. Helfrich
Tiergartenstrasse 47-49
69121 Heidelberg
Opening hours:
Monday – Friday
09:00-13:00 & 14:00-17:00 hrs
Sat. 08:00-13:00 & 17:30-18:00 hrs
Please call for an appointment outside business hours, Tel.: 06221 – 41 24 90
E-mail: info@hundeservice-helfrich.de
Internet: www.hundeservice-helfrich.de

Dog's day at Rex Kennels