Luxury every day, with fine Bavarian crystal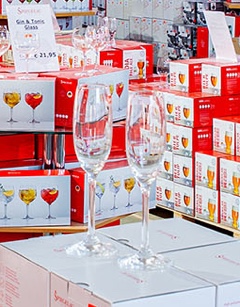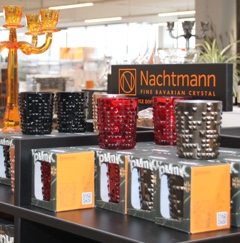 Nachtmann Fine Bavarian Crystal. More than 180 years of experience, skill and tradition has gone into the creation of this high-quality Nachtmann glassware. Representing the best of "Made in Germany", it reflects our enduring commitment to the craft of making fine Bavarian crystal.
Sparkling since 1834, we aim to bring a little luxury and brilliance to modern-day life.
Our brand Spiegelau has a long tradition, dating back to 1521. Staying faithful to the spirit of Bavarian artisan craftsmanship, we adopt the latest, most innovative technology to make sure our glasses are very reliable and durable.
Spiegelau glasses are not only sparkling in brilliant clarity, they are also extremely breakage resistant and dishwasher safe. With glasses for craft beer and wine as well as universal glasses, a Spiegelau glass rises to any occasion.
Visit our Factory Outlets!
Lovers of luxurious Crystal will find a large choice of gift ideas at bargain prices.
 We are looking forward to your visit!
Factory Outlet Neustadt:
Zacharias-Frank-Straße 7
,
92660 Neustadt a. d. Waldnaab
Tel.: +49 (0) 96 02/ 30 11 76

E-Mail:
shop.neustadt@spiegelau-nachtmann.de
Opening hours factory sales center Neustadt:

Monday through Friday 10 am – 5 pm, Sat: 10 am – 2 pm


Factory Outlet Spiegelau:
Hauptstraße 2 – 4

94518 Spiegelau
Tel.: +49 (0) 96 02 / 30 41 22

E-Mail:
c.fruth@spiegelau-nachtmann.de

Opening hours:
 Mon – Sat: 11 am – 4 pm
Factory Outlet Geislingen
:
Bayerische Glaswerke GmbH
City Outlet Geislingen
Fabrikstrasse 40
73312 Geislingen
Tel.: +49 (0) 73 31 / 71 51 34 0
Fax:  +49 (0) 73 31 / 71 51 33 9
Email:
rsngeislingen@spiegelau-nachtmann.de
Opening hours:
 Mon – Sat:  9.30 am – 6 .30 pm
For current information and special promotions in all outlets please check
www.nachtmann.com/en/outlets | www.spiegelau.com/en/outlets
Or buy our products online at: