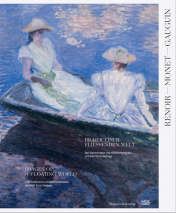 A comprehensive exhibition catalogue has been published by Hatje Cantz Verlag.
Renoir, Monet, Gauguin –
Images of a Floating World
The Collections of Kojiro Matsukata and Karl Ernst Osthaus
Museum Folkwang (Hrsg.), 376 pages, 215 images
ISBN: 978-3-7757-5127-8
The catalogue is available in bookshops for 54 €.
Museum Folkwang
06. Feb 2022 – 15. May 2022
RENOIR, MONET, GAUGUIN
Images of a Floating World
Museum Folkwang – Exhibitions 2023
From Renoir via Monet to Gauguin – In 2022, on the occasion of its 100th anniversary in Essen, Museum Folkwang presented its exceptional late-impressionist art collection established by Karl Ernst Osthaus (1874–1921) in dialogue with the collection of Kōjirō Matsukata (1866–1950). For the first time since the 1950s, the Japanese collection of French Impressionism from the National Museum of Western Art in Tokyo will again be exhibited comprehensively in Europe. Featuring around 120 masterpieces by Paul Cézanne, Paul Gauguin, Vincent van Gogh, Édouard Manet, Claude Monet, Pierre-Auguste Renoir and Auguste Rodin, the exhibition reveals how modern French art was not only appreciated by Western collectors at the beginning of the 20th century, but  also found an early following in Japan. This is depicted through two fascinating collector personalities of the early 20th century: Kōjirō Matsukata and Karl Ernst Osthaus.
It was from an industrial environment that both Matsukata and Osthaus developed their passion for French modernist art, and their private collections soon became unparalleled. Osthaus – a native of the town of Hagen in the Ruhr region – and Matsukata – a Japanese shipping entrepreneur – sought direct contact with artists in their studios, associated with the same art dealers and took an interest in each other's cultures of origin, each independently from one another. Within a few years, they brought together extensive impressionist and late-impressionist collections, seeking  to make these new developments in modern art accessible to a wider public in their own museums. Experts and artists such as Henry van de Velde and Frank Brangwyn advised Osthaus and Matsukata in building up their collections respectively. Moreover, both collectors attached as much importance to historical artifacts as they did to new design principles of their times.
The exhibition is exceptional in that it brings together, for the very first time, important acquisitions by Osthaus and Matsukata with major works of Impressionism, such as Pierre-Auguste Renoir's Lise with a Parasol (Osthaus) and Édouard Manet's Portrait of Monsieur Brun (Matsukata). A mutual fascination with the work of the French sculptor Auguste Rodin led to a large number of acquisitions on the collectors' behalf, thus enabling exhibition visitors to witness Rodin's creative development across a span of 30 years on the basis of his life work The Gates of Hell. Works by pioneers of Modernism such as Paul Gauguin are presented alongside major works by his contemporaries Vincent van Gogh and Paul  Cézanne. Purchasing works by these artists was truly pioneering in the context of German museums at the time, and these works were soon to find an avid Japanese audience as well. Both collectors' fascination with Pointillism is evident in the exhibition's collection of works by Paul Signac, Henri Edmond Cross and Théo van Rysselberghe. Finally, a 360-degree landscape panorama is presented in the central hall of the exhibition showing paintings by Claude Monet, Gustave Courbet and Charles-François Daubigny – Images of a Floating World.
Complementing the selection of French modernist works is a group of East Asian artworks formerly owned by Osthaus. Matsukata and Osthaus were united by the idea of a museum that encompassed fine art as well as applied arts and Western as well as Eastern art. The interaction of past and present, as well as the exchange that took place between the older and younger generations of artists, were decisive factors for both collectors in establishing their own respective museums. In the exhibition, the expansive installations by contemporary Japanese artists Chiharu Shiota (*1972) and Tabaimo (*1975) continue this unifying idea up into the present times.
---