junited AUTOGLAS Heidelberg
# 1 for windshields in the Heidelberg area
American vehicles a specialty

junited AUTOGLAS Heidelberg is part of the junited AUTOGLAS partnership – Germany's largest chain of independent auto glass experts.
All junited AUTOGLAS Heidelberg's mechanics are experienced and trained professionals combining traditional craftsmanship with regular training in new, innovative technologies.
# 1 for service • High standards of workmanship • Top-quality products • Fast service, with a free cup of coffee while you wait • 100% reliable
If it takes a little longer: No-cost replacement vehicle or taxi
Repair or a new windshield? – the answer comes down to fair play and trust. You can always trust junited AUTOGLAS Heidelberg to give you the best advice.
Sometimes windshield damage can be repaired so that you don't have to replace the whole windshield.
The initial check-up is free. And depending on your auto insurance policy, the repair is often free too!
Chips and scratches can often be repaired using the most modern, innovative techniques so that the damage is gone, the windshield is perfect again.
Sometimes repair is impossible, you do need a new windschield; at junited AUTOGLAS Heidelberg replacement windshields are the same top quality as the original windscreen – with a guarantee up to 10 years.
Replacement windshields for the most common auto makes are in stock – and if a windshield isn't in stock it can usually be obtained quickly from one of junited AUTOGLAS Heidelberg's 200 partners.
junited AUTOGLAS Heidelberg – A passion for auto glass – not just windshields but also the glass in headlights and indicator lights.
Autoglas Doctor
# 1 for windshield repair or replacement
Chip repair a specialty!
Founded in 1925, Autoglas Doctor is a company rich in tradition – the professionals in everything to do with auto glass – According to the TÜV Rheinland (German Technical Inspection Association): one of the very best in Baden-Württemberg!
Three Locations
Bruchsal – Am Mantel 5, 76646 Bruchsal. Tel. 07251 – 72 12 72
Heidelberg – Speyererstrasse 3, 69115 Heidelberg. Tel. 06221 – 30 75 95
Wiesloch – Messplatzstrasse 23, 69168 Wiesloch. Tel. 06222 – 773 43 43
24-hour service – 24/7 – 365 days a year
If your windshield is chipped or broken don't hesitate – contact the Autoglas Doctor
Repairs can be done on the spot or in the workshop.
30-year guarantee
When a windshield needs to be replaced – free rental car (VW Polo)
98% of replacement windscreens in stock
Only top quality windscreens – AGC, Pilkington, Saint-Gobain Sekurit, Guardian – the same top quality as the original windscreen
Your auto insurance will cover part or all of the cost of repairing or replacing a damaged windshield – the Autoglas Doctor will work direct with your insurance company to save you hassle and money.
Special discounts for customers of the DEVK or Zurich insurance companies.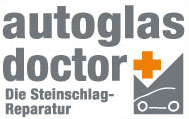 Autoglas Doctor Bruchsal
Am Mantel 5
76646 Bruchsal
Tel. 07251 – 72 12 72
Autoglas Doctor Heidelberg
Speyererstrasse 3
69115 Heidelberg
Tel. 06221 – 30 75 95
Autoglas Doctor Wiesloch
Messplatzstrasse 23
69168 Wiesloch
Tel. 06222 – 773 43 43