GK-Autoteile – German & American Car Parts
US Car Parts · All Models · Japanese & European · Batteries & Accessories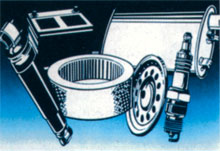 GK-Autoteile GmbH have two convenient locations in Kaiserslautern-Einsiedlerhof and Baumholder and specialize in sourcing car parts and accessoried for all makes of American, Japanese as well as European vehicles.
European Car Parts
GK-Autoteile are "Motoo Premium Partners" with several deliveries daily and are able to supply almost 100% of available parts for European models within 24 hours of ordering.
U.S. Car Parts
Through location expansion in 2005 the company was able to significantly enlarge its storage capacity and can now carry many parts "in-stock". Furthermore through several delivery channels most parts can be obtained within 24 to 48 hours. Parts are ordered from the USA can be obtained within 72 hours in cooperation with the UPS logistik services and the "large and heavy" parts are delivered by air freight on a weekly basis with delivery times of no more than two weeks.
Payment can be made in Cash in $ or €
Major Credit Cards are accepted
VAT Forms accepted
GK-Autoteile look forward to serving you at their closest convenient location.
KL/Einsiedlerhof
GK-Autoteile GmbH, Im Haderwald 12, Kaiserslautern-Einsiedlerhof
Tel.: 0631 – 414 89 35 0, Fax: 0631 – 414 89 35 1
Hours: Mon.-Fri.: 08:30 – 17:30 hrs. Saturday: 09:00 – 13:00 hrs.
Baumholder
GK-Autoteile GmbH, Bahnhofstrasse 39, Baumholder
Tel.: 06783 – 18 75 50, Fax: 06783 – 18 75 49
Hours: Mon.-Fri.: 08:30 – 17:30 hrs. Saturday: 09:00 – 13:00 hrs.