Galantos Genetics
DNA Immigration & Paternity Testing. Pain Free. Affordable. Confidential. Reliable.
Call us: +49 6131 720 620
Our DNA tests can be administered in our lab. We also provide private At-Home test kits.
Requirement for all DNA Tests:
All test persons have to agree to the test
You need a witness who takes the samples and sends the forms and samples to our lab.
Witness can be: doctor, pharmacy, midwife, Caritas, Diakonie, authorities etc.
Qualifications of our lab:

Galantos Genetics is a special laboratory run by academics that not only provide quality service and genetic testing, but also creates new improved forms of genetic and forensic tests. The genetic tests are carried out in Mainz; the new research and creation of tests are a close cooperation with the American based company Independent Forensics. All tests that are carried out by Galantos Genetics are subject to strict protocols and SOPs (standard operating procedures).
The lab is DIN EN ISO 17025 accredited
If you need the DNA test for immigration to the USA we have a partnership with the AABB accredited lab Independent Forensics (IFI) in Chicago, Dr. Reich is our expert for questions concerning DNA testing in the USA.
Founder
Galantos Genetics GmbH is a specialist company for genetic tests. The company is the brainchild of University Professor Doctor Alfred Maelicke from the specialist area of medicine at the University of Mainz.
Management and Staff
The management of the company is led by Dr. B. Siebertz and M.J.Schatzl. Other scientists are also a part of our specialist staff.
Consultation
Galantos Genetics has contacts to family psychologists and family counselors, medical specialists, child services workers, lawyers and other related institutions and professions that are necessary for child, family and paternity issues and we are constantly supplementing these networks with qualified personnel. We believe by offering contact to these services, we are taking a responsible stance in making sure our clients have the opportunity to access the appropriate services should the need arise once the client receives the test results.
Our Laboratory Services : Paternity Testing
court admissible / private paternity testing, DNA Immigrations tests
Expert Witness Services
over 250 US wide collection centers as well as contacts to international embassies
clinic appointments and Mobile Collection Services available in every US state
easy, pain-free, cotton swab test.
free consulting available on request
Our partner laboratory in the US is approved by: AABB accreditation,
College of American Pathologists, and the FQS-I.
Our German laboratory is approved by: DGAB, ISO 17025
Immigration Testing
Immigration to the US or Germany often requires documentation of a biological relationship between petitioner and beneficiary
we establish contact with the relevant embassy
we send all official documentation to the specified embassy for sample collection of the relevant "family members".
Legal paternity testing
mother, child and alleged father
completely court admissible
fast results
Expert Witness Testimony
confidential
For an appointment or for further information call: Tel. +49-6131-720620
Dr. Ulrike Schacker, Martin Schatzl
Location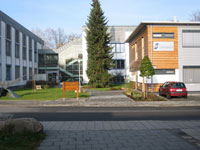 Galantos Genetics enjoys one of the most modern laboratories with up to date equipment, located on the Campus of the Johannes-Gutenberg-University of Mainz.
Galantos Genetics GmbH
Campus University of Mainz
Johann-Joachim-Becher-Weg 30a
55128 Mainz
Telefon: +49 – (0) 61 31 – 720 620 · Fax: +49 – (0) 61 31 – 720 62 29
E-Mail: info@galantos.de · Internet: paternity.galantos.de