Dr. med. Rudolph Weber
Specialist for Gynecology and Obstetrics in Hanau


Dr. med. Rudolph Weber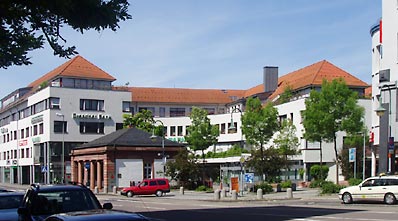 Located at the entrance of the inner city, opposite to City Center/Saturn with easy access from the "Hanau Hauptbahnhof" exit of B43A.
We have been committed to providing high-quality, comprehensive gynecology care for English speaking women in the Rhein Main area since 1988. In all of these years a large proportion of the patients in our office have been English speaking.
Our aim is to provide a private practice in gynecology, obstetrics and women's healthcare that is comprehensive, state of the art, patient-friendly and holistic. We strive to use our many years of experience and empathy, and a personal, warm office site and staff, to benefit our patients in wellness and illness, throughout the phases of women's lives.
We are sensitive and respectful of your need for personal attention and will endeavor to explain all of your treatment options.
We offer a comprehensive range of gynecology and obstetrical services, including:
Prenatal care, also for difficult pregnancies
Ultrasound with modern equipment, including breast ultrasound and Doppler
Cardiotocography (fetal monitoring) including kineto- cardiotocotraphy (K-CTG)
Bioidentical hormone treatment (one of the very few Gynecologists in Germany offering this treatment option)
Infertility treatment
Menopause treatment
Treatment for hormonal disorders
Therapy for chronic gynecological problems
Contraception and sexual medicine
Cold light and video colposcopy (follow-up for abnormal Pap smears)
Advice for teenagers
TRICARE/CHAMPUS Preferred Provider
Foreign health insurance accepted
Appointments are available at short notice. Call 06181-251123 (English speaking line)
Dr. med. Rudolph Weber
Specialist for Gynecology and Obstetrics
Nuernberger Str. 2A, 63450 Hanau
Tel.: +49-6181-251123 (English speaking line)
Fax: +49-6181-251127
Email: office@doctor-weber.com
Internet: www.doctor-weber.com