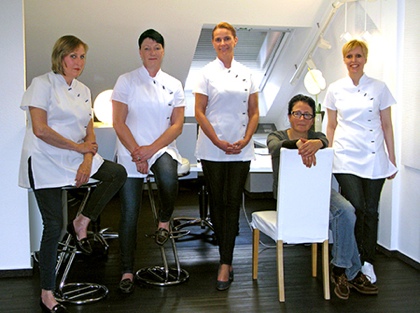 Practice for Dermatology & Allergology
Center for Aesthetic & Cosmetic Dermatology
Dr. Monika Weber-Müller and her team will help you to become and remain beautifully healthy!
Dr. Monika Weber-Müller can help with all skin problems and diseases as well as the correct care and protection of skin and hair. The practice offers diagnosis and therapy for skin, hair and nail problems as well as the superficial vein system (spider veins, varicose veins).
Competence and trust
Dr. Weber-Müller and her team keep up with the latest research and continue to improve and refine their knowledge and expertise in the diagnostics and therapy of skin problems and are happy to discuss potential options with you before deciding on the optimal treatment or therapy.
Dermatology Practice
Dermatological treatments offered for:
Acne • Psoriasis • Neurodermatitis • Eczema • Hair loss • Skin conditions caused by bacteria, viruses, or fungal infections.
Treatments offered include light therapy treatment for skin disorders such as acne, psoriasis, neurodermitis and photodynamic therapy.
Surgical Procedures
Procedures that can be carried out in the practice include the removal of moles, warts, and skin precancers.
Skin Cancer Screening
Computerised Mole Monitoring
Allergology
Allergology is the diagnosis and treatment of allergic conditions of the skin and mucous membranes.
Treatment of: Hay fever • Asthma • Contact eczema • Neurodermatitis.
Phlebology
Phlebology is the diagnosis and treatment of vein problems.
Treatment of: Varicose veins • Spider veins
Cosmetic Dermatology Center
The skin is our body's largest organ, a protective shield against outside influences, it cools or warms us, and it is also our most important beauty asset.
The Cosmetic Dermatology Center consists of highly qualified staff and a special treatment center on a different floor in the practice building. Before each treatment the skin is examined for any sign of medical problems, such as precancerous conditions.
Anti-Aging Treatments
Wrinkle treatment using: Botox • Hyaluronic acid (HA) • Lactic acid (AHA)
Skin peeling with fruit acids.
Micro Dermabrasion
Electro-mesotherapy, a pain-free, needle-free alternative to traditional mesotherapy
Radiofrequency Therapy
Acne Treatment
Location
Dr. med. Monika Weber-Müller · Weiherstrasse 2 · 66914 Waldmohr
Dermatology & Allergology Practice
Tel. 06373 – 4411
Fax 06373 – 4029
Email: praxis@dr-weber-mueller.de
Dermatology Practice hours
Mon. Wed: 08.00-12.00 & 15.00-18.00
Tue. Thurs. Fri:: 08.00-12.00
Appointments outside practice hours by arrangement.