---
Dr. Knoll is a board certified plastic surgeon and graduate of the plastic surgery training program at Yale University where she also completed a 2-year basic science research fellowship. Her clinical and basic science research were related to craniofacial and aesthetic plastic surgery. She authored several papers and book chapters in this area.
Dr. Knoll works in solo private practice in Frankfurt/Germany and has a key interest in aesthetic plastic surgery. Dr. Bianca Knoll understands the concerns undergoing surgery abroad and is familiar with specific needs being associated with the U.S. Military and Government and has been serving the U.S. community since her return to Germany in 2008. Dr Knoll is an experienced plastic surgeon who provides safe and reliable results using most advanced plastic surgery techniques.
Dr. Bianca Knoll and her staff always have your best interests at heart, and will do everything they can to have your surgery go well, and your recovery proceed smoothly, safely and with the least amount of discomfort possible.
Contact Dr Knoll's international care coordinator, Valerie Mignon to schedule your appointment:
Phone: 069 – 742 27 79 or info@dr-bianca-knoll.com.
Valerie Mignon is a native American, who has worked for over 15 years with internationally renown plastic surgeons in Dallas. She has a profound knowledge and experience in the field of plastic surgery, who will assist and guide you through the entire process.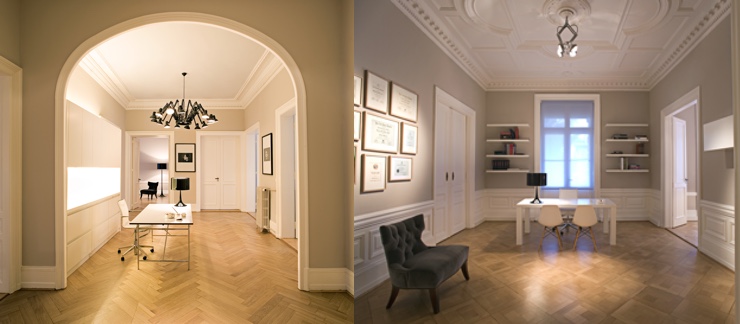 Procedures
Aesthetic Surgery of the Face
Upper and Lower Blepharoplasty
Oculoplastic Surgery
Facelift
Forehead lift
Neck lift
Rhinoplasty (primary and secondary)
Chin augmentation
Treatment of Rhytids
Fat Injections / lipofilling
Lip enhancement
Upper lip lift
Non-surgical Treatments
Chemical Peel
Dermapen Microneedling – Collagen induction
Botox®, Filler
Aesthetic Surgery of the Body
Breast Augmentation
Breast Implant Exchange
Breast Implant Removal
Breast Augmentation with Autologous Tissue
Breast Lift
Breast Reduction
Bodylift
Thigh Lift
Short scar brachialplasty (Arm lift)
Brazilian butt lift
Lipoabdominalplasty
Liposuction
Advanced techniques in body contouring surgery
Mommy Makeover
Buttock Augmentation
Fat Transfer /Lipofilling
Pediatric and Craniofacial Plastic Surgery
Protuberant Ears
Hemangiomas and Vascular Malformations
Birth Marks
Gynecomastia
Breast anomalies
Cleft Lip and Cleft Palate
Craniosynostosis
Skull deformities
Facial Clefts
Hemifacial Microsomia
Reconstructive Surgery of the Face
Skin Tumors
Malignant Melanoma
Reconstruction after any Tumor Resection
Reconstruction of Upper and Lower Eyelid
Nasal Reconstruction
Cheek Reconstruction
Ear Reconstruction
Reconstruction of the Jaws
Repair and Secondary Procedures after Facial Trauma
Reconstructive Surgery of the Body
Breast Reconstruction
Breast asymmetry
Abdominal Wall Reconstruction
Positions
Associate Editorial Board Member of Aesthetic Plastic Surgery Journal
Expert witness Physician Chamber Hesse & Rhineland Palatinate
Professional Societies
American Society of Plastic Surgeons (ASPS)
American Aesthetic Society of Plastic Surgeons (ASAPS)
American Society of Maxillofacial Surgeons (ASMS)
International Society of Aesthetic Plastic Surgery (ISAPS)
European Association of reconstructive and Aesthetic Plastic Surgery (EURAPS)
Yale General Surgery Society
Yale Plastic Surgery Society
German Society of Plastic, Reconstructive, and Aesthetic Surgeons (DGPRÄC)
We accept 19% VAT forms
Dr. Bianca Knoll | Savignystr. 61 | 60325 Frankfurt | Tel.: 069-7422-7979