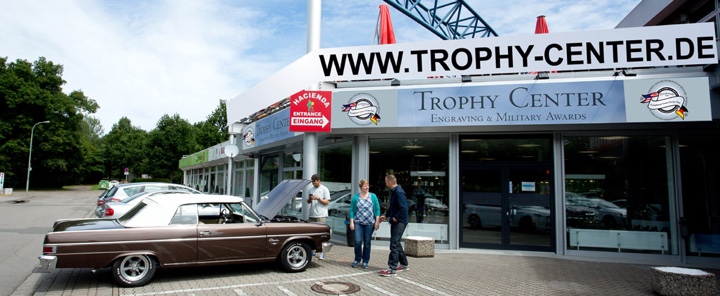 Trophy Center Engraving & Military Awards UG
Weilerbacher Strasse 110 | 67661 Kaiserslautern-Einsiedlerhof | Hacienda Plaza
Internet: WWW.TROPHY-CENTER.DE | E-Mail: office@trophy-center.de
Phone: 0631 680 31 680 | 2 Miles from Ramstein Air Base, Germany




Trophy Center Engraving & Military Awards
Welcome to the largest Engraving Factory in Germany
When it comes to engraving and customer service, the Trophy Center is the best in the business. With experience since the early 1950s and over 3 Generations, we're able to engrave materials like wood, plastic, leather, and metal, glass, crystal, steel and more…
If you are wondering what we can do? It's probably a lot more than you'd think…
We produce customized Coins, Patches, Printed Glasses & Mugs, Stamps, Guidons, Medals, and much more
Express Service – no extra charge / no charge per letter!
As an ORIGINAL we assume a LEADING POSITION
WE DON´T CHARGE PER LETTER…
WE DON´T CHARGE PER LOGO OR IMAGE…
THIS is why we are an unchallenged market leader in this business!
. . . And because of our sensationally friendly service…
. . . and our quick production times….
. . . and our awesome quality
. . . and our amazing "can-do-attitude"…and
…and and and and……
So far so good
Should you nevertheless have any questions, don´t hesitate to call or email us!
We, the Owners, Sandra & Jochen Kulbick and our amazing sales team are always here for you and will help you out with easy or tricky questions or requests:
"It is not sufficient for us if our customers are "satisfied" with our service:
they should be delighted!"
If you have not experienced our professional and first rate service and are intrigued to find out just how different we are, then this is your opportunity to do just that:
Contact us !
Trophy Center Engraving & Military Awards UG
67661 Kaiserslautern-Einsiedlerhof | Weilerbacher Strasse 110 | (below Hacienda Mexican Restaurant)
Phone: 0631 680 31 680
Internet: WWW.TROPHY-CENTER.DE | E-Mail: office@trophy-center.de
Join us on Facebook: http://www.facebook.com/TrophyCenterUG
How to find us