06374 805777 | Am Fürstengrab 12a | 67688 Rodenbach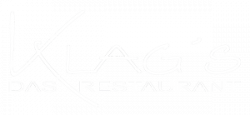 WELCOME TO KLAG'S RESTAURANT IN RODENBACH

Dear guests,
nice that you have found your way to us. We are happy to have taken over the popular restaurant Klag's and offer our guests specialties from the Mediterranean and German cuisine. Enjoy freshly prepared meals in the pleasant ambience of our restaurant and on the summer terrace. We serve a daily changing lunch and in the evening you can choose from our seasonal menu.
Feel at home with us!
We will gladly accept your reservation by phone at 06374 805777 or in person at the restaurant. We look forward to welcoming you.
Your hosts family Singh and team
Chef Gurnam Singh has 15 years experience in the upscale gastronomy. Among other things, he has been responsible for the kitchen of a renowned Italian restaurant in Bad Kreuznach for many years.
Look forward to the culinary offer at Klag's English Menu on our website
How to find us:
Klag's Restaurant, Am Fürstengrab 12A, 67688 Rodenbach. Tel.: 06374 805777
Opening times:
Monday, Wednesday, Thursday, Friday 11:30 – 14:30 and 17:00 – 22:00 hrs
Saturday 17:00 – 22:00 hrs. Sunday and Holidays 11:30 – 22:00 hrs
Closed Tuesdays