OUR
MISSION
To provide high-quality modern apartments to U.S. soldiers who look for homely comfort and luxury.
OUR
VISION
To hold the title of the most trusted and reputed organization in our sector forever.
Homes – We Offer on Rent || Serve Your Purpose 100 percent
We at Exinterior are committed to give you the unmatched home comfort away from home. We rent apartments exclusively to the U.S military people who are on TLA, TLF or TDY and deployed in Ramstein Air Base or soon going to join the base. We understand that looking for a home on rent is quite a task for military people who are committed to serve their country. All our rooms are well-furnished and packed with all the modern amenities. This is our effort to create more home-like ambience for US military people who are far away from their country.
WE
OFFER
Our rooms are way ahead in terms of comfort and amenities and we can proudly say we are the no. 1 in our area. There will be no shortage of comfort and space, as rooms are spacious enough to accommodate 5 star beds and large wardrobe. All bedrooms have air conditioning and radiant floor heating as cool, calm and clean decor will ease all your stress and refuel your energy level. Apartments are conveniently located from the base as you will get the facility of airport shuttle. The kitchens are fully equipped with all major appliances such as dishes, pots, pans, microwave, dishwasher, freezer, refrigerator, tea kettle, and toaster, cooking and eating utensils, glasses, stove, oven, and coffee machine. Along with that you will get TV with 100 channels, Wi-Fi internet and Washer and dryer. Moreover, you will get BBQ area, garden, big garage and big terrace to spend your time according to your wish and for outdoor relaxation.
Our
Homes
The apartments are located in kaiserslaturn, very close to resturants and full of life. Everything you would need for your stay and within a short drive to all local bases. The apartments come with a car.
Brand New Modern Townhouse, Superb Location; 5 minutes to Kaiserslautern downtown or to Vogelweh Commissary; 10 minutes Ramstein Airbase. The apartment rooms are huge in sizes and luxuriously furnished.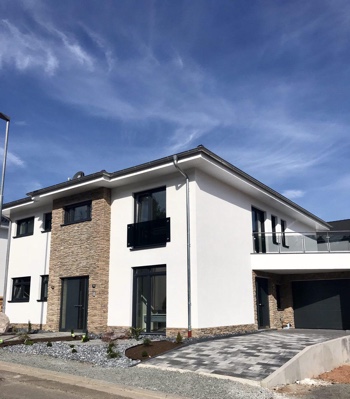 Manhattan-Suite
200 square feet • 3 bedroom • 2 bathroom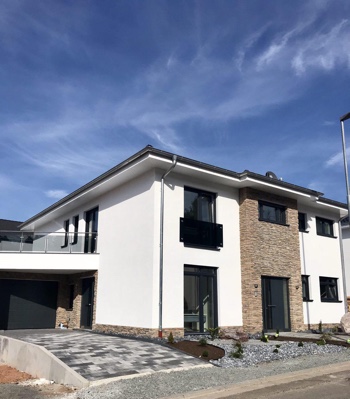 Brooklyn-Suite
200 square feet • 3 bedroom • 2 bathroom
---
Contact us to make your reservation
E-mail: info@immobilien-Hauf.de • Tel.: +49 173 887 66 24
Hütschenhauserstrasse 2, 66892 Bruchmühlbach-Miesau