Hautsuenden Tattoo – Wiesbaden
Our shop opened its doors in August 2013.
As it is a top priority to us to make you feel at ease our shop is set apart by a comfortable atmosphere and our artists' competent advice.
We always give our all to reward the trust you place in us by making your dream tattoo come true.
ARTISTS
Carina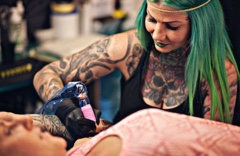 Ever since Carina felt a vocation in 2009, she has changed professions from being a mechanic to being a tattoo artist and now lives with enthusiasm for her craft, which she already loved before she even took up the machine herself – a story that is told colorfully by the works of art inked into her skin. By turning her passion into her profession, she can now give others – you too! – their dream tattoos.
Style: black and grey, color realism.
Leo
Tattoos are Leo's passion. When he got his first tattoo at fifteen, it was a dream come true. He has now been a tattoo artist for three years, wanting nothing more than to create unique works of art on your skin. He is committed to quality, because he wants to make your tattoo dreams come true as well!
Styles: Geometric, mandalas, black & grey
Nici DeeDiemnd (Guest Artist)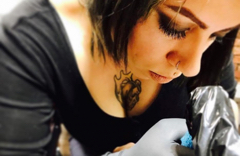 Nici was born and bred in Frankfurt and is determined to make the world a more colorful place. If you'd like to be more colourful too, she can ink your skin in the following styles:
ColorRealistic, NewSchool, New/NeoTraditional, CustomDesign, Freehand Lettering
Kleo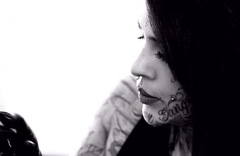 Kleo puts her heart and soul into her work as a tattoo artist. There's no one more positive and warm-hearted than her. In November 2016 she started her apprenticeship at Hautsünden Tattoo and has made huge progress since then. She's up for tattooing anything from small lettering work to her own wanna do's.
How to find us:
Hautsünden Tattoo · Carina Jost, Wörthstrasse 1, 65185 Wiesbaden
Opening hours:
Sunday & Monday closed • Tuesday by appointment • Wednesday 12:00–19:00 • Thursday 12:00–22:00 • Friday 12:00–19:00 • Saturday 11:00–16:00
Contact: