Autohaus Haese GmbH,
Volvo Diplomat & Military Sales
Since 1996 the family-owned company Autohaus Haese has enjoyed being one of Europe's biggest Volvo Diplomat & Military Sales agents, covering the Wiesbaden, Frankfurt and Darmstadt areas.
We are privileged to serve military and civilian DoD personnel stationed overseas as well as tax-free personnel at
Embassies / consulates
United Nations (Main org, UNESCO, IBRD, World Bank, etc.)
European Union (commission, parliament, institutions, agencies, e.g. European Central Bank – ECB, European Space Agency – ESA, EUMETSAT)
International organizations (NATO, OECD, etc.)
Enjoy substantial benefits by purchasing a new Volvo under the Volvo Military or Diplomat sales program from us:
U.S. or European specification
Factory pricing: save thousands compared with regular U.S. or European pricing
Special offers on packages, extra equipment, etc.
Custom order your Volvo and we will build it according to your personal preferences
Option of VIP factory delivery in Gothenburg, Sweden – the home of Volvo
International warranties and home shipment program (USA/CA)
Uncomplicated meeting and hassle-free ordering with our multi-lingual staff
We service what we sell: two workshops in the Rhein-Main area
REPAIRS, SERVICE & PARTS FOR NISSAN & VOLVO
Our service department staff will be happy to assist you whether your vehicle is due for regular periodic maintenance or needs repair.
Services offered (excerpt):
Maintenance & repairs
Tire changing
Accident repairs
Repair of damages caused by hail
Paint damages, "Smart Repair"
Breakage of glass
Vehicle interior and exterior cleaning service
Accessory installation
Spare parts
Service & Parts Location:
Autohaus Haese,
Anna-Birle-Str. 7, 55252 Mainz-Kastel,
Tel.: 06134 – 18 290
Business hours
Mon. – Thu.: 07:45 – 18:00 · Friday: 07:45 – 17:00 · Saturday: 10:00 – 13:00
Closed on Sundays and German holidays
CONTACT – Volvo Military & Diplomat Sales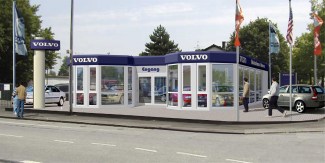 Autohaus Haese GmbH (Volvo Military & Diplomat Sales)
Boelckestrasse 38, 55252 Wiesbaden (Mainz-Kastel)
Contact Person: Sylvester Hall
Phone: 06134 / 284 943 · Fax: 06134 / 284 514
E-mail: sylvester.hall@autohaus-haese.de · Internet: www.haese-military.de
Office business hours:
Monday – Friday: 10:00 – 19:00 · Saturday: 10:00 – 16:00
Office closed on Sundays and German holidays
Car lot open on Saturday, Sunday and German public holidays: 10:00 – 17:00